Aidan Flynn
Teaching Fellow
Aidan Flynn holds a Master of Science in Architecture Studies (S.M.Arch.S.) in the History, Theory + Criticism of Architecture & Art from MIT, and a B.A. (hons.) in Art History and Renaissance Studies from the University of Toronto. Aidan is currently a Teaching Fellow in the Department of Architecture, where he teaches seminars on queer space, architectural design, and advanced writing workshops for students in urbanism, history, and computation. His research is concerned with the complex relationships between gender, sexuality, and architecture in the early modern world through queer and feminist theories. In his scholarship and pedagogical approaches, Aidan considers these methodological intersections as simultaneously generative and anachronistic, requiring careful examination to release silences from the premodern archive through postmodern tools. These questions and challenges directed his S.M.Arch.S. thesis, Surveilling Sin: Locating Sodomy in the Early Modern Florentine Bathhouse (2021).
Aidan's current project, MIT's first-ever Queer Space Lab, graciously supported by the Chancellor's Community Innovation Fund – MindHandHeart, invited a group of 12 undergraduate and graduate researchers to investigate the archival silences of queer space in the long history of repression, connection, and livelihoods through a spatial lens at the Institute and far beyond.
Subjects Taught
4.s63 – Queer Space
4.s24 – Advanced Workshop in Writing for Architecture
4.s14 – Curating the Page: Building Media for Ourselves and Others
4.URG – Queer Space: Rwanda (independent study supervisor)
Projects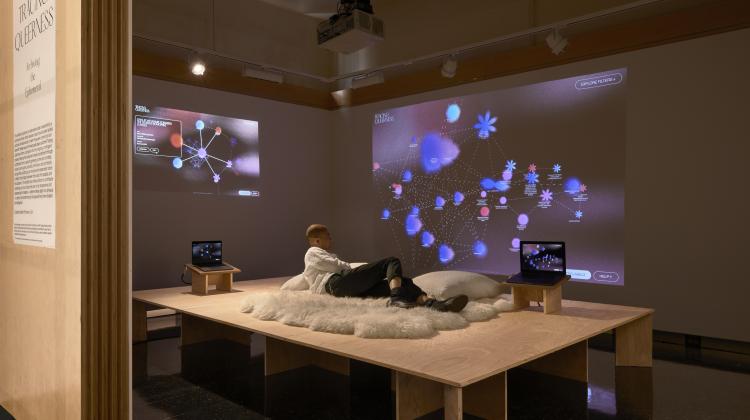 This exhibit proposes an alternate mode of assembling a community-driven queer space to ask: how do queer spatial practices simultaneously orient the queer community and dis-orient familiar ways of knowing self, space, and time? The curators offer a glimpse into this ongoing, contingent process of tracing the worlds we inherit and disinherit through contributions from a vast and growing community of artists, scholars, party-goers, activists, historians, and architects, among others, building up an inclusive and expanded notion of citation that bridges between the social, the spatial, and the academic. Tracing Queerness also invites visitors to contribute something as kin and become part of an expansive and ephemeral set of relations – neither entirely digital nor physical – in order to be transformed by the spaces they have shaped and reimagined.