Aga Khan Lecture Series: Balayet Hossain: A lost image of the ancient city of old Dhaka that integrates Islamic urbanism with water
Image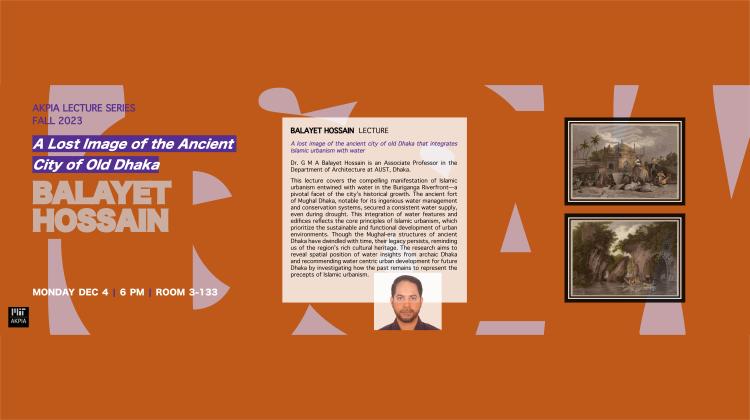 Contact Name
Diana Rooney
Location
3-133 and live stream
Dr. G M A Balayet Hossain is an accomplished Associate Professor in the Department of Architecture at AUST, Dhaka. Serving as a coordinator of the Postgraduate organizing committee, he plays a pivotal role in shaping the academic landscape at his institution. He is a fellow member of the Bangladesh Institute of Planners and a member of the Institute of Architects Bangladesh. 
Dr. Hossain's teaching portfolio encompasses Climate and Architecture, Housing, Human Settlement, and Development Issues courses. He also guides Design Studios and Field Studies, offering students valuable hands-on experience. His dedication extends to supervising theses in architectural and urban areas. 
His academic journey has been marked by prestigious awards and accolades. Notably, he was honored with a 'Merit with Title' Research Doctorate and the Italian Ministry of Education Scholarship for his PhD in 2015. Furthermore, his architectural prowess was recognized with the Dean's Honor Award in 2005, and he received a Special Prize at the 'Space and Responses' exhibition, demonstrating his outstanding talent. 
Dr. Hossain's research focuses on investigating and revealing the spatial position of water, explicitly the Transformation of Urban Spaces and Water, with a publication record in refereed journals. He conducted the Banvashi research project, responding to a flood-responsive hut design to address climate change in Bangladesh's low-lying areas. 
A dedicated member of the academic community, Dr. Hossain actively participates in conferences and workshops, sharing his expertise and insights in water, architecture, and urban studies. His research, which focuses on water-resilient cities for the future, is inspired by his passion for water in tradition, which combines sustainability, functionality, and spirituality. 
Abstract:
In the ancient city of Dhaka, a compelling manifestation of Islamic urbanism entwined with water is found in the Buriganga Riverfront—a pivotal facet of the city's historical growth. This bustling riverfront was a dynamic center of trade and activity, with its Islamic architectural marvels, including mosques, mausoleums, minarets, forts, bridges, and caravanserais, thoughtfully oriented toward the river, fostering a sense of openness and connectivity with the surrounding environment. The ancient fort of Mughal Dhaka, notable for its ingenious water management and conservation systems, secured a consistent water supply, even during drought. This integration of water features and edifices reflects the core principles of Islamic urbanism, which prioritize the sustainable and functional development of urban environments. Though the Mughal-era structures of ancient Dhaka have dwindled with time, their legacy persists, reminding us of the region's rich cultural heritage. The past reliance on water in Dhaka has not integrated the city's modern growth in terms of sustainability, functionality, cultural variety, and spiritual fulfillment. The research aims to reveal spatial position of water insights from archaic Dhaka and recommending water centric urban development for future Dhaka by investigating how the past remains to represent the precepts of Islamic.