Alexandra Lange and Mark Lamster
Image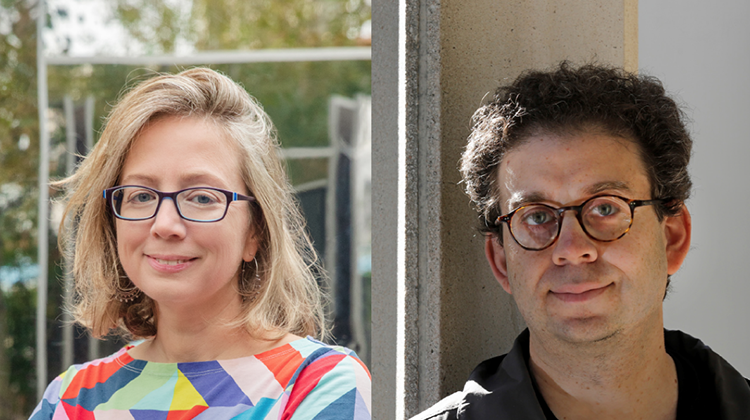 Location
Long Lounge, 7-429
Monday, April 24, 2023 - 5:30pm-6:30pm EST
Co-hosted by the MIT Architecture's History, Theory and Criticism Program and Norman B. Leventhal Center for Advanced Urbanism at MIT.
The roundtable discussion No, We Don't Hate Everything with Alexandra Lange and Mark Lamster, moderated by Garnette Cadogan will be in the Long Lounge (7-429) for members of the MIT community; register for webcast here.
Alexandra Lange is a design critic and the author, most recently of "Meet Me by the Fountain: An Inside History of the Mall" (Bloomsbury USA, 2022). Her essays, reviews and features have appeared in New York Magazine, the New York Times, the New Yorker and a plethora of design publications including Bloomberg CityLab and Curbed. She is also editorial advisor to New Angle: Voice, a podcast on American women in architecture produced by the Beverly Willis Architecture Foundation and supported by the National Endowment for the Arts, the National Endowment for the Humanities, and the Graham Foundation.
Mark Lamster is the architecture critic of the Dallas Morning News and a lecturer the Harvard Graduate School of Design. His biography of the late architect Philip Johnson, The Man in the Glass House (Little Brown), was a finalist for the 2018 National Book Critics Circle Award for Biography. In 2021, he was awarded the $50,000 Rabkin Prize for arts journalism.
Garnette Cadogan is an essayist whose research explores the promise and perils of urban life, the vitality and inequality of cities, and the challenges of pluralism. Named by the literary magazine Freeman's as one of 29 writers from around the world who "represent the future of new writing" in 2017, he writes about culture and the arts for various publications.
Cadogan is the Tunney Lee Distinguished Lecturer in Urbanism. He was a Martin Luther King Jr. Visiting Scholar (2017-2018) at DUSP, and is a Visiting Scholar at the Institute for Public Knowledge at New York University and a Fellow at the Institute for Advanced Studies in Culture at the University of Virginia. The editor-at-large of Non-Stop Metropolis: A New York City Atlas (co-edited by Rebecca Solnit and Joshua Jelly-Schapiro), he is at work on a book on walking.
All HTC Forum Events are organized by the 
History, Theory, and Criticism of Architecture and Art
and made possible in part by the
Lipstadt-Stieber Fund.