Design & Solidarity Book Launch Party
Image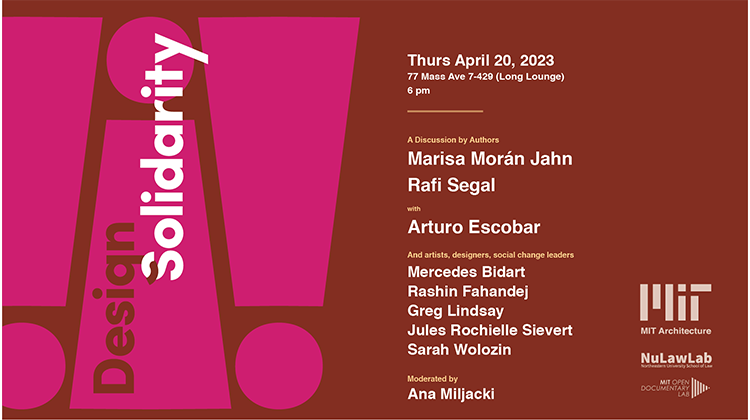 Location
Long Lounge, 7-429
WEBCAST: https://web.mit.edu/webcast/architecture/s23/4/
Design & Solidarity Book Launch Party
Presented with the Architecture and Urbanism Group

Join us for a conversation, celebration, and catered reception to launch Design & Solidarity (Columbia University Press, 2023), a book that explores the power of design, art, and architecture in shaping emergent forms of mutualism, fulfilling their promise of solidarity, and ensuring that these values endure. 
Authors 
Marisa Morán Jahn, Artist; Director of Integrated Design at Parsons/The New School
Rafi Segal, Architect; Director, MIT SMArchS Urbanism Program  

In Conversation with
Arturo Escobar, Design Anthropologist; Author, Designs for the Pluriverse   
Greg Lindsay, Senior Fellow, MIT Future Urban Collectives 
Mercedes Bidart, Entrepreneur; Co-Founder, Quipu  
Rashin Fahandej, Multimedia Artist, Filmmaker

Moderated by 
Ana Miljacki, Critic, Curator, Director, MIT Architecture and Urbanism Group 

With remarks from
Sarah Wolozin, Director of MIT OpenDocLab 
Jules Sievert, Artistic Director, NuLawLab, Northeastern University


About the authors and contributors
Rafi Segal is an architect and Associate Professor of Architecture and Urbanism at MIT. His work involves design and research on the architectural, urban and regional scale, currently focused on how emerging notions of collectivity can impact the design of buildings and cities. Segal directs Future Urban Collectives, a new design-research lab at MIT that explores the relation between digital platforms and physical communities  asking how architecture and urbanism can support and scale cohabitation, coproduction, and coexistence. Segal has exhibited his work at venues including Storefront for Art and Architecture; KunstWerk, Berlin; Witte de With, Rotterdam; Venice Biennale of Architecture; Museum of Modern Art; and the Hong Kong/Shenzhen Urbanism Biennale. He holds a PhD from Princeton University and a M.Sc and B.Arch from Technion, Israel Institute of Technology. rafisegal.com/

An artist of Ecuadorian and Chinese descent, Marisa Morán Jahn's works redistribute power, "exemplifying the possibilities of art as social practice" (ArtForum). Codesigned with new immigrants and working families, Jahn's public artwork, civic media tools, installations, films, architectural and urban-scale collaborations have engaged millions via the United Nations, Tribeca Film Festival, Obama's White House, and Venice Biennale of Architecture. She is a Sundance and Creative Capital grantee, a Senior Researcher at MIT (her alma mater), artist in residence at The National Public Housing Museum, and the Director of Integrated Design at Parsons/The New School. With Rafi Segal, Jahn co-authored a book, Design & Solidarity (Columbia University Press, 2023) and co-founded Carehaus, the U.S.'s first care-based co-housing project (carehaus.net). Marisajahn.com | Instagram and Twitter: @marisa_jahn

Mercedes Bidart, born and raised in Argentina, is dedicated to creating innovative pathways for economic justice. Bidart founded QUIPU, a digital platform that supports shared wealth generation in low income, informal economies. Mercedes' work has been featured in Forbes, Norman Foster Stories, and El País; and was awarded by MIT Innovation Initiative, MIT DesignX Accelerator, Google.org, Fast Forward Accelerator, World Bank Youth Summit, IDB Lab among others. She holds a master degree from MIT (Fulbright Scholar) and a Bachelor in Political Science from the University of Buenos Aires. Before MIT, she worked for five years in the Cities Program of a Latin American Think Tank (CIPPEC) where she did research and knowledge exchange among local governments.

Arturo Escobar is an activist-researcher from Cali, Colombia, working on territorial struggles against extractivism, post-developmentalist and post-capitalist transitions, and ontological design. He was professor of anthropology and political ecology at the U. of North Carolina, Chapel Hill, until 2018, and is currently affiliated with the PhD Programs in Design and Creation (U. de Caldas, Manizales, Colombia) and in Environmental Sciences (U. del Valle, Cali). Over the past twenty-five years, he has worked closely with Afrodescendant, environmental and feminist organizations in Colombia. His most well-known book is Encountering Development: The Making and Unmaking of the Third World (1995, 2nd Ed. 2011). His most recent books are: Designs for the Pluriverse: Radical Interdependence, Autonomy, and the Making of Worlds (2018), and Pluriversal Politics: The Real and the Possible (2020).

Greg Lindsay is a generalist, urbanist, futurist, and speaker. He is a 2022-2023 urban tech fellow at Cornell Tech's Jacobs Institute, where he leads The Metaverse Metropolis — a new initiative exploring the implications of augmented reality at urban scale. He is also the chief communications officer at Climate Alpha, an AI-driven location-analysis platform steering investment toward climate adaptation and more resilient regions; a senior fellow of MIT's Future Urban Collectives Lab, and a non-resident senior fellow of the Atlantic Council's Scowcroft Strategy Initiative.

Rashin Fahandej, an Iranian-American immersive storyteller, futurist, and emerging media strategist, is a Senior Co-Creation Research-Practitioner at MIT Open Doc Lab/Co-creation Studio and Assistant Professor of Emerging and Interactive Media, Emerson College. Institutor of "Art As Echosystem" her initiatives are multiyear experimental laboratories for collective radical reimaginations of social systems, using emerging technology and counter-narratives of care and community co-creation to design equitable futures. She is the founder of A Father's Lullaby, Future Inclusion Lab, and XRCo-Creation Impact Lab.  She is the recipient of the Prix Ars Electronica Award of Distinction, the Foster Prize at the Institute of Contemporary Arts, and the Mass Cultural Council artist fellowship.

Ana Miljački, PhD is a Professor of Architecture at Massachusetts Institute of Technology, where she teaches theory and design. She holds a PhD (2007) in history and theory of architecture from Harvard University, an MArch from Rice University and a BA from Bennington College. She curated and designed the "Classes, Masses, Crowds" installation for Making Things Public at ZKM in 2005, and with Lee Moreau: the Architects of Our Happiness exhibit at Michigan University in 2006, 13:100, New York Architects design for Ordos for the Architectural League in New York in 2008, and "The architect's dilemma" for YouPrison exhibition at Fondacione Sandretto Re Rebaundengo in 2008. She won the ACSA/JAE "Best in Design as Scholarship Article" award in 2012. 

Jules Rochielle Sievert works at the intersection of art and activism. Currently a Creative Placemaking Policy Fellow at Arizona State University through the Herberger Institute for Design and the Arts. She is also the Creative Director at NuLawLab at Northeastern University School of Law. Her most recent artist residencies have been with the Center for Artistic Activism at Art Action Academy at the Queens Museum, with the Mayor's Office of Veterans' Affairs and Department of Cultural Affairs in New York, Women With Wings Artists Residency in Boulder, Colorado, and with California State Fullerton's Grand Central Art Center in Santa Ana. Her work has been in the New York Times, the Wall Street Journal and, The Los Angeles Times.

Sarah Wolozin is the director of MIT Open Documentary Lab, the founder and editorial director of Docubase, co-founder and a member of the editorial collective of Immerse, and co-founder of the Co-Creation Studio. Before arriving at MIT, she produced award-winning documentaries and educational media for a wide variety of media outlets including PBS, WGBH, NPR, websites and museums. She has been a juror and committee member of Sundance New Frontier Story Lab, Tribeca New Media Fund, the IFP Media Center, Puma Impact Award, Tribeca Storyscapes and World Press Photo. She has presented at Sundance, MOMA, SXSW, International Documentary  
Register here.