Situated Computations, Craft + Technology
Image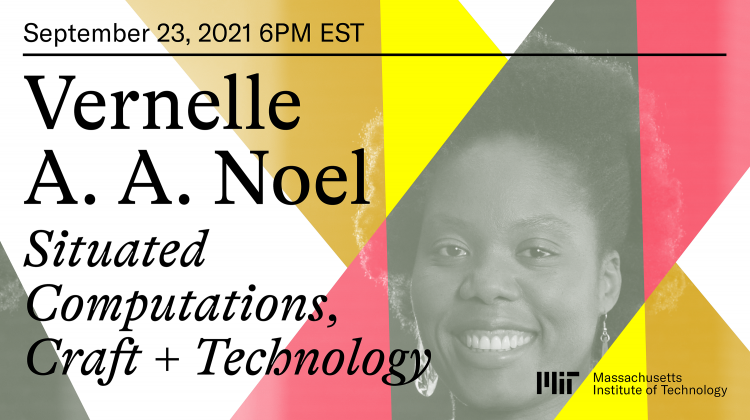 Location
Long Lounge, 7-429
Series
Computation Lectures
Public Lecture Series
Craft practices, knowledges, and communities are disappearing. These practices carry with them histories and cultures of people, knowledges, and social ties to communities. Some reasons for their disappearance include dying practitioners, lacking pedagogy, changing practices, and technocentric developments. How might we employ computation in the restoration, remediation, and reconfiguration of these practices, knowledges, and communities? Additionally, how might knowledges and innovations in these crafts, repair problems and improve research, practice, and pedagogy in computational design? 
Vernelle A. A. Noel
Assistant Professor of Architecture and Interactive Computing, Georgia Institute of Technology
Vernelle A. A. Noel, Ph.D. is a design scholar, architect, artist, and Director of the Situated Computation + Design Lab at the Georgia Institute of Technology. Her research examines traditional and automated making, human-computer interaction, interdisciplinary creativity, and their intersections with society. She builds new expressions, tools, and methodologies to explore social, cultural, and political aspects of making, computational design, and emerging technologies for new social and technical reconfigurations of design practice, pedagogy, and publics. Dr. Noel's work in design and computation has been supported by the Graham Foundation for Advanced Studies in the Fine Arts, the Mozilla Foundation, and ideas2innovation, among others. She is also a recipient of the 2021 DigitalFUTURES Young Award for exceptional research and scholarship in the field of critical computational design.  Dr. Noel has been a Keynote at ACADIA, has been featured on Madame Architect, and in 2015 gave a TEDx Talk titled, "The Power of Making: Craft, Computation, and Carnival." Dr. Noel holds a Ph.D. in Architecture from Penn State University, a Master of Science in Architecture Studies from (MIT), a BArch. from Howard University, and a Diploma in Civil Engineering from Trinidad & Tobago.