Hawai'i Non-Linear: A conversation with Chris Leong, Dominic Leong, Sean Connelly and Sanford Kwinter
Image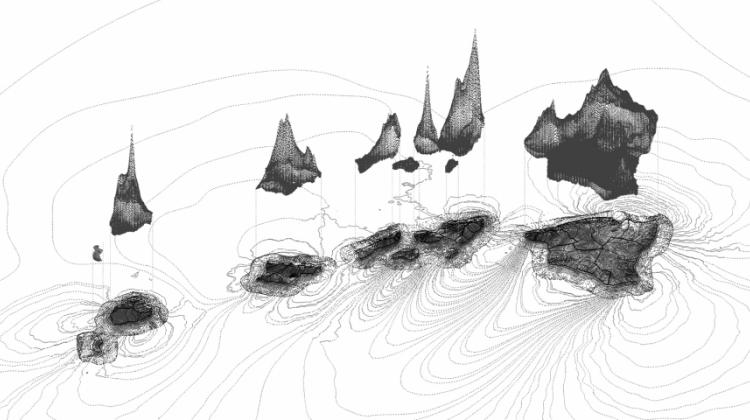 Hawai'i Non-Linear: A conversation with Chris Leong, Dominic Leong, Sean Connelly and Sanford Kwinter
MIT Architecture | Spring 2021 Lecture Series
A Research Studio conversation with Sean Connelly, Sanford Kwinter, Chris Leong, and Dominic Leong 
In collaboration with the Architecture and Urbanism Group
6:00 PM, webcast
Hawai'i is the most remote landmass in the world on the frontier of the COVID and climate crisis. This talk aims to reintroduce the concept of Hawai'i to the United States, technically and spiritually, as part of an ongoing exploration to empower indigenous Hawaiian knowledge, and the local ecologies of guardianship that Mary Kawena Pukui described as "utilizing the resources of sustenance to a maximum."
The talk foregrounds US settler colonialism not as a singular historical event of the past but as a dynamic militarized system of occupation that continues to impose ecological devastation upon the Hawaiian Islands while perpetuating racial injustices against Hawaiian people (Kanaka Maoli). Whereas, the current grassroots efforts to restore the indigenous systems of land use, governance and cultivation contrast existing urbanism as well as the US military's spatial occupations of the Pacific since 1898.
Importantly, Hawai'i presents an example where indigenous knowledge is a lifestyle; a mountain-to-ocean connection; a nutrient system; a spatial configuration; a technology; and a way of interaction that is uniquely oceanic. Through the concepts of this work Hawai'i Non-Linear suggests a new phenomenology for architecture and future possibilities of what it means to be an architect .
Sean Connelly, Sanford Kwinter, Chris Leong, and Dominic Leong
Sean Connelly is a Pacific-Islander American artist-architect from Honolulu. Identifying as a ghost in the field, Sean operates both independently and collaboratively from the outliers of the profession, directing his/their work through a studio social practice named After Oceanic (www.ao-projects.com). Sean's combined work over the past decade promotes justice-advancing futures around the dynamics of indigenous geography today. Works include sculptures, video installations, and new media research projects such as Hawai'i Futures and the Ala Wai Centennial Memorial Project . Works also include donor-funded cultural plans for Native Hawaiian organizations focused on recovering indigenous food systems across the Hawaiian islands. Sean is a founding board member of Protect Our Ala Wai Watersheds (POAWW), a grassroots advocacy group that organized in 2019 to successfully halt a United States Army Corps of Engineers proposal to build detention basins in the last remaining native portions of stream in Waikīkī. Sean has served as an expert witness in architecture for the State of Hawai'i and holds a Doctorate in Architecture from the University of Hawai'i and a Master's in Design from Harvard University Graduate School of Design.
Chris and Dominic Leong are founding partners of Leong Leong, an architecture studio and creative consultancy based in New York. At Leong Leong, Chris and Dominic work with diverse clients to build cultural resonance and advance social agendas within the built environment. Leong Leong frequently expands the role of the architect to integrate design, strategy, and architecture. Recent projects include the Anita May Rosenstein Campus for the Los Angeles LGBT Center (2021), Onx Studio Mixed-Reality Accelerator for New Museum and Onassis Foundation (2020), and Float Tank 01 and installation at the Museo Guggenheim Bilbao (2019). Christopher received his Master of Architecture from Princeton University and his Bachelor of Arts from the University of California, Berkeley. Dominic received his Master of Science in Advanced Architectural Design from Columbia University, graduating with Honors, and his Bachelor of Architecture from California Polytechnic State University, San Luis Obispo.
Sanford Kwinter is a Canadian architectural theorist, writer, and editor. He is a professor of architecture at The European Graduate School, Switzerland, at The School of Architecture at Pratt Institute, New York, and at the University of Applied Arts in Vienna, where he heads the Institute for Theory and History of Architecture. In 1985 he co-founded the independent publishing company Zone Books with designer Bruce Mau and theorist Jonathan Crary. The publishing house also produced the journal ZONE. He remained editor of both the journal and books until 2001. He was also, until 2001, an editorial member and contributor of the bimonthly journal ANY. Now spanning almost four decades, Kwinter's publishing career has covered such topics and fields as architecture, science, design, technology, and the humanities. He has contributed numerous essays and articles (many of which have been translated into several languages) to a vast number of periodicals.
Image credit: Hawaii Atlas Islands. Courtesy of Sean Connelly