How we narrate our yesterday determines how we imagine the future of architecture
Image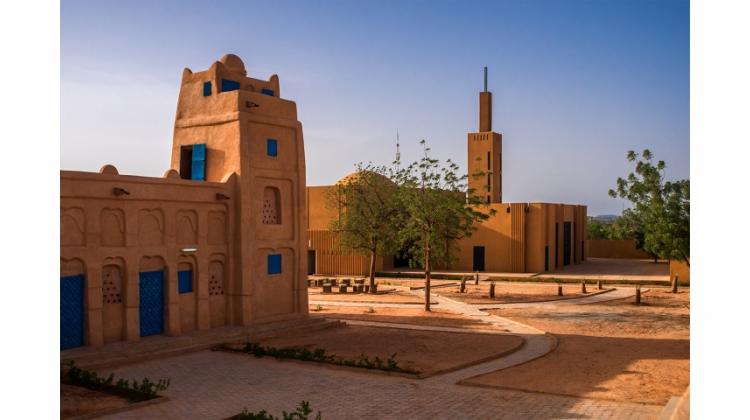 How we narrate our yesterday determines how we imagine the future of architecture
MIT Architecture | Spring 2021 Lecture Series
6:00 PM, webcast 
Mariam Kamara
Mariam Kamara is an architect from Niger who studied architecture at the University of Washington. In 2013, she became a founding member of architectural collective, united4design. They collaborated on Niamey2000, a housing development which was awarded Architect Magazine's 2017 R+D Award for innovation. In 2014, Kamara founded atelier masōmī, an architecture and research practice that tackles public, cultural, residential, commercial and urban design projects. Kamara believes that architects have an important role to play in creating spaces that elevate, dignify, and provide people with a better quality of life.   Collaborative project, Hikma Religious and Secular Complex, won the 2017 Gold LafargeHolcim Award for Africa and Middle East, and the 2018 Silver Global LafargeHolcim Award for Sustainable Architecture. Other projects include the Dandaji Regional Market, which was shortlisted for the Dezeen Awards in 2019. Upcoming projects include the Niamey Cultural Centre, which Kamara designed under the mentorship of Sir David Adjaye as part of the Rolex Mentor and Protégé programme. In 2019, Kamara was named as a Laureate of the Prince Claus Award. She was a 2019 Royal Academy of Arts Dorfman Awards finalist. Last year, The New York Times named her as one of 15 Creative Women of Our Time. atelier masōmī made its debut on the 2021 AD100 list.
After Kamara's talk, she will be joined in conversation by Department Head Nicholas de Monchaux, Building Technology (BT) PhD candidate Mohamed Ismail, MArch student Nada AlMulla, and SMArchS BT student Kiley Feickert.
Mohamed Ismail is a PhD Candidate in Building Technology at MIT. He is trained as both a civil engineer (BS, Duke University) and architect (MArch, University of Virginia), and he studies the potential for structural and material optimization in the alleviation of housing insecurity in the Global South.
Nada AlMulla is a Master of Architecture Candidate at MIT.  She received her undergraduate degree in architecture from the American University of Sharjah in 2017. Upon her graduation, she worked at architecture firms in both Saudi and Boston. Nada worked on several design/build projects such as the Christo and Jeanne Claude Award '15, The Abu Dhabi Art Pavilion '17, and GateHouse Garden at the American University of Sharjah. Her work often investigates the roles culture and technology play in informing architectural concepts and processes.
Kiley Feickert is an architect, pursuing her SMArchS degree in Building Technology at MIT, where she joins the Digital Structures research group led by Caitlin Mueller. She aims to reduce embodied carbon in buildings through the critical evaluation of construction materials and methods. Kiley's research focuses on optimizing structural systems for material efficiency and she's interested in exploring the extent to which digital fabrication can reduce labor required to build complex, yet efficient forms. Prior to joining the Building Technology lab at MIT, Kiley practiced as an architectural designer in New York City and London. Most recently, she worked on the design and construction of Google's London headquarters in Kings Cross.