Boston Mayor Michelle Wu asks SA+P advanced degree recipients to be forces for good in Boston and beyond
Image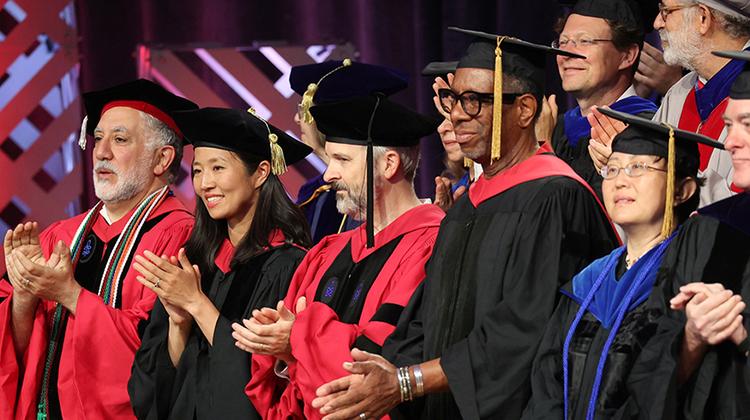 Evoking the historic impact that the late urban planners and MIT faculty Tunney Lee and Mel King had on the city, Boston Mayor Michelle Wu challenged the 2023 graduates of MIT's School of Architecture and Planning (SA+P) to remember to put people first throughout their careers.
"Everything you sketch, plan, shape, and build — the spaces and places we create — are empty without people," said Wu. "Not just literally, but in terms of their energy, purpose, and spirit, because it's ultimately about what the space fosters and creates for people that gives it life, meaning, and power."
Speaking at SA+P's Advanced Degree Ceremony, at which 200 students received master's and doctoral degrees in architecture, urban planning, real estate development, and media arts and sciences, Wu shared that she was not always enamored of government or City Hall. Growing up in Chicago as the eldest child of Chinese immigrants, she had "occasional unavoidable interactions with government that were always experiences filled with embarrassment and dread" given language and cultural barriers.
Wu went on to graduate from Harvard University and Harvard Law School and became the first Asian American woman to serve on the Boston City Council. Now, as the first person of color and the first woman to be elected mayor of Boston, she is working to have City Hall look and feel welcoming to everyone.
She cited the recent transformation of Boston's City Hall Plaza as a space redesigned to encourage community gatherings and host a variety of family-friendly events. Wu placed the need for community at the heart of affordable housing, climate-resilient infrastructure, and other urban concerns that "advance climate justice, racial justice, and economic justice all at the same time.
"We come into this world actively wanting what's best for others, with an intuitive desire for the whole community to get what they need to be happy, healthy, and whole," said Wu. "Mel King and Tunney Lee realized early on the importance of preserving that part of themselves and cultivating it in their students — not letting society erode away the pure, unadulterated hopeful humanity we possess from the moment we're born. It's that same practice you all have absorbed in your time here."
Wu also noted that two SA+P alumni — Arthur Jemison MCP '94 and Tiffany Chu '10 — currently work in her administration as chief of planning and director of the Boston Development and Planning Agency, and chief of staff, respectively.  
"Together, they are helping chart a more equitable course for our city's future," she said. "It's a future we need all of you to help build with a curiosity and compassion, creativity and commitment to community that this place has instilled and strengthened in you."
Before Wu took the podium, SA+P Dean Hashim Sarkis also referenced the significant impact Lee, King, and other SA+P alumni have had in working with the City of Boston to realize its visions.
"To name a few, I.M. Pei, Norman Leventhal, and Kevin Lynch helped shape many parts of the city including Government Center, Post Office Square, and the skyline of Back Bay," said Sarkis. "And our current faculty members Karilyn Crockett and Kairos Shen have served the city from City Hall."
"Mayor Wu is actually building the Just City, the city you have dreamed about, where equity and opportunity walk hand-in-hand," he said. "So do citizenship and hospitality, and technology and humanity, and a city where the future is shaped by community engagement in planning, design, and decision-making."
Opening the ceremony, held in Kresge Auditorium before an audience of graduates, family, and friends, Sarkis presented a modest "thank-you gift" to the graduates — a kite — which he said was "a symbol of your well-earned freedom and your high ambitions."
Following the dean's welcome was Tod Machover, the Muriel R. Cooper Professor of Music and Media, and director of the MIT Media Lab's Opera of the Future group, who — joined by several musicians — performed a composition created especially for the event, entitled "A Little Hub Symphony." The three-minute piece incorporated several sounds culled from the Boston area including Fenway Park, the seashore, and even Mayor Wu playing a piano solo with the Boston Symphony Orchestra earlier this spring.
In her closing remarks, Wu noted that "there are thousands of graduate schools out there who can teach you how to build a building, design a space, or master the latest techniques of micro-fabrication — shout out to all the Media Lab graduates — but of all your options, you chose this place. Its people and its values. Values that set it apart, that ask you to consider what kind of impact you want to have on the world and if what you are building is moving you closer to having that impact."
Story originally published June 2, 2023 by Maria Iacobo, School of Architecture and Planning for MIT News.