Greening roofs to boost climate resilience
Image
Image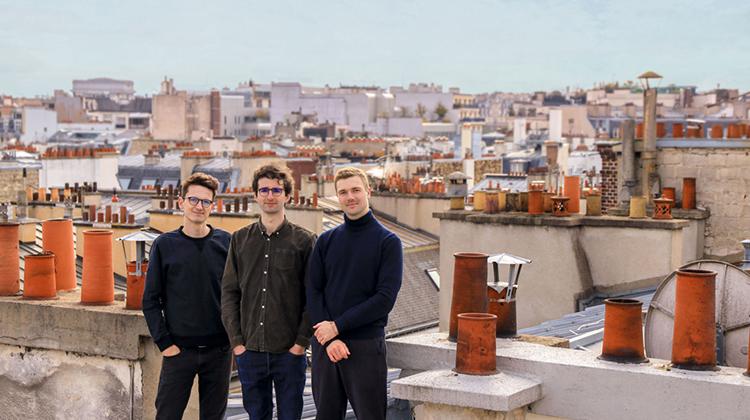 Image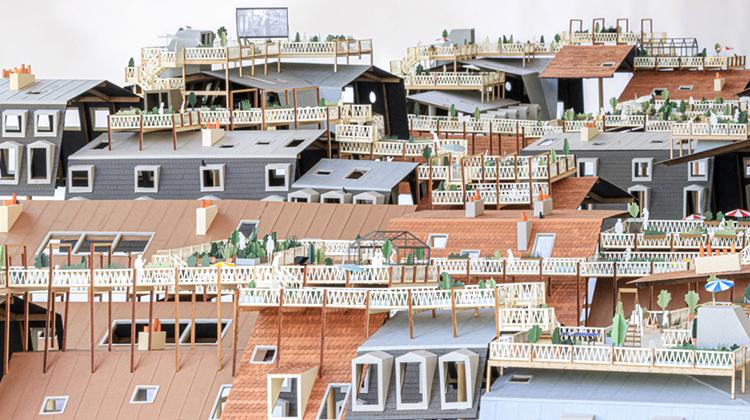 Roofscapes, a startup founded by three MIT students, is planning to build green spaces on pitched roofs in Paris, to decrease temperatures while improving quality of life.
When the historic cities of Europe were built hundreds of years ago, there were open green spaces all around them. But today's city centers can be a 30-minute drive or more to the vast open greenery that earlier Europeans took for granted.
That's what the startup Roofscapes is trying to change. The company, founded by three students from MIT's master of architecture program, is using timber structures to turn the ubiquitous pitched roofs of Paris into accessible green spaces.
The spaces would provide a way to grow local food, anchor biodiversity, reduce the temperatures of buildings, improve air quality, increase water retention, and give residents a new way to escape the dense urban clusters of modern times.
"We see this as a way to unlock the possibilities of these buildings," says Eytan Levi MA '21, SM '21, who co-founded the company with Olivier Faber MA '23 and Tim Cousin MA '23. "These surfaces weren't being used otherwise but could actually have a highly positive contribution to the value of the buildings, the environment, and the lives of the people."
For the co-founders, Roofscapes is about helping build up climate resilience for the future while improving quality of life in cities now.
"It was always important to us to work with as little contradictions to our values as possible in terms of environmental and social impact," Faber says. "For us, Roofscapes is a way to apply some of our academic learnings to the real world in a way that is tactical and impactful, because we're tapping into this whole issue — pitched roof adaptation — that has been ignored by traditional architecture."
Three architects with a vision
The founders, who grew up in France, met while studying architecture as undergraduates in Switzerland, but after graduating and working at design firms for a few years, they began discussing other ways they could make a difference.
"We knew we wanted to have an impact on the built environment that was different than what a lot of architectural firms were doing. We were thinking about a startup, but mostly we came to MIT because we knew we'd have a lot of agency to grow our skills and competency in adapting the built environment to the climate and biodiversity crises," Faber explains.
Three months after coming to MIT, they applied to the DesignX accelerator to explore ways to make cities greener by using timber structures to build flat, green platforms on the ubiquitous pitched roofs of European cities' older buildings.
"In European city centers, two thirds of the roofs are pitched, and there's no solution to make them accessible and put green surfaces on them," Cousin says. "Meanwhile, we have all these issues with heat islands and excessive heat in urban centers, among other issues like biodiversity collapse, retention of rain water, lack of green spaces. Green roofs are one of the best ways to address all of these problems."
They began making small models of their imagined green roofs and talking with structural engineers around campus. The founders also gained operational knowledge from MIT's Center for Real Estate, where Levi studied.
In 2021, they showcased a 170-square-foot model at the Seoul Biennale of Architecture and Urbanism in South Korea. The model showed roofs made from different materials and pitched at different angles, along with versions of Roofscapes' wooden platforms with gardens and vegetation built on top.
When Levi graduated, he moved to Paris, where Cousin and Faber are joining him this spring. "We're starting with Paris because all the roofs there are the same height, and you can really feel the potential when you go up there to help the city adapt," says Cousin.
Roofscapes' big break came last year, when the company won a grant from the City of Paris as part of a program to improve the city's climate resilience. The grant will go toward Roofscapes' first project on the roof of a former town hall building in the heart of Paris. The company plans to test the project's impact on the temperature of the buildings, humidity levels, and the biodiversity it can foster.
"We were just three architects with a vision, and at MIT it became a company, and now in Paris we're seeing the reality of deploying this vision," Cousin says. "This is not something you do with three people. You need everyone in the city on the same side. We're being advocates, and it's exciting to be in this position."
A grassroots roof movement
The founders say they hear at least once a week from a building owner or tenant who is excited to become a partner, giving them a list of more than 60 buildings to consider for their systems down the line. Still, they plan to focus on running tests on a few pilot projects in Paris before expanding more quickly using prefabricated structures.
"It's great to hear that constant interest," Levi says. "It's like we're on the same team, because they're potential clients, but they're also cheering us on in our work. We know from the interest that once we have a streamlined process, we can get a lot of projects at once."
Even in just the three years since founding the company, the founders say they've seen their work take on a new sense of urgency.
"We've seen a shift in people's minds since we started three years ago," Levi says. "Global warming is becoming increasingly graspable, and we're seeing a greater will from building owners and inhabitants. People are very supportive of the notion that we have a heritage environment, but as the climate changes drastically, our building stock doesn't work anymore the way it worked in the 19th century. It needs to be adapted, and that's what we are doing."
Story originally published April 4, 2023 by Zach Winn for MIT News.