Nikolaos Vlavianos Measures Immersion in Virtual Space
Image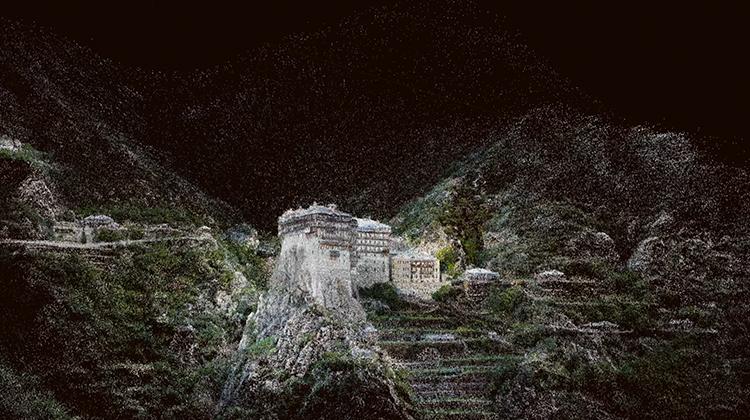 Through his research at MIT, Vlavianos has sought to understand how people respond to their environments, and how creating digital twins will revolutionize architecture.
As a scholar in the field of architecture and computational design, Nikolaos Vlavianos has always been fascinated by how people respond to built environments. During his time as a PhD candidate in Design and Computation in the MIT School of Architecture and Planning (SA+P), Vlavianos has combined emerging technologies in ways that would have been impossible just 10 years ago, 3D scanning historical sites from around the globe and measuring human responses to them in extended reality (XR).
Vlavianos' dissertation, to be defended this summer, is a culmination of his research at MIT, measuring human responses in physical space versus in XR. "Immersion, or when human subjects are absorbed in the virtual experience,  is very powerful," Vlavianos says. "My challenge was to understand and measure aspects of this experience, both quantitatively and qualitatively." As Vlavianos discovered through his work, immersion may even go so far as to inspire a spiritual feeling of calm, or what ancient Greek philosophers called "Déos."
Under the guidance of his advisor, Professor Takehiko Nagakura, Vlavianos spent months at the ancient monastery of Simonos Petra in Athos, Greece, where a monastic community of monks spend their lives in reflection and prayer.  On a precipice overlooking the Aegean Sea, Vlavianos and Nagakura utilized state-of-the-art technology and computation to perform detailed aerial 3D scanning of the monastery to collect more than 100,000 images.
Vlavianos then performed a precise 3D reconstruction of the 14th century Unesco heritage site that served as a means of creating an immersive virtual experience that users engage with using a headset. He manipulated such architectural conditions as light, sound, texture, and scale and observed the behavior of participants (their gaze, movement and so forth) within the space.
The study's 100 participants, including monks at Simonos Petra and people back at MIT and the Hellenic College Holy Cross in Brookline, Mass, experienced the monastery's church space in XR with attached sensors for five minutes (for much longer, fatigue starts to set in, Vlavianos says ). Participants then answered survey questions such as how long it took for them to feel immersed, answering a self-reporting questionnaire combined with data collected from Galvanic Skin Response devices.
"The ultimate goal was to identify an optimal architectural experience in XR," Vlavianos says. One benefit to the project is providing access to people who otherwise wouldn't get a chance to experience this historic space (Mount Athos does not allow women to visit, for example). But Vlavianos also considers studying, and optimizing, immersion to be its own worthwhile pursuit, and one that's key to the future of architecture.
A forward-thinking view of documentation
Vlavianos earned his Bachelor's degree in architecture and engineering from the National Technical University of Athens, where a view overlooking the Acropolis shaped his thinking about the field. "I'm a citizen of a country that is an archeological site," says Vlavianos of his native Greece. "But I perceive the past as an opportunity to think about the future."
Vlavianos recognizes that creating digital twins of historical sites functions as a kind of preservation, but it is also vital to the evolution of world architecture. "I have a forward-thinking approach to understanding how technology can allow more sites to be documented through a combination of autonomous drones and neural network algorithms, or even crowdsourcing data collected by locals and embedded with their knowledge," Vlavianos says.
Training locals in Afghanistan to 3D scan heritage sites was part of Vlavianos' contribution to Ways of Seeing, a collaborative project supported by MIT Center for Art, Science & Technology that created digital twins and XR immersive experiences of four historical sites across the region. Led by political science professor Fotini Christia, the project emerged from a conversation among MIT faculty about how they could take meaningful action after the withdrawal of U.S. troops from Afghanistan in August 2021. Vlavianos led the project's digital transformation strategy, part of which involved empowering Afghan researchers to document their own cultural landmarks.
Vlavianos also consulted with artist and scholar Jackson 2bears Leween (CAST visiting artist and member of the MIT Indigenous Digital Delegation 2020) in his collaboration on the creation of a virtual longhouse, or sacred structure, that had been lost to fire. Recognizing that every culture has unique ways of building, Vlavianos asked how that knowledge could be embedded into a digital twin so that it functions not only as a recreation of a particular space but as a well of information for future generations.
"In making digital twins, we are building a global archive that's active, like a book with blank pages for people to continue writing in," Vlavianos says. "It's not a tool for archaeologists to study the past — it's a tool for the future to build on."
Developing synergy at MIT
As a mentor during his time at MIT, under the program established by Professor Nagakura, Vlavianos has trained graduate students to fly drones and conduct 3D scanning, while leading aerial operations to Machu Picchu, Peru, Cappadocia, Turkey and to Mii-dera in Kyoto, Japan. Most recently, he worked closely with two undergraduate students (UROPS) from Wellesley College to build a gaming experience of a mosque in Afghanistan, designed to be played by Afghan kids who've been displaced around the world.
Vlavianos has especially valued the synergy of different cultural approaches in working with his own research mentors. "The international mix of skills and values was a very important part of my journey at MIT," Vlavianos says, pointing to his advisor Professor Nagakura's disciplined work ethic and philosophical approach combined with Vlavianos' own Greek-inspired appreciation for aesthetics and the humanities.
Vlavianos developed the next phase of his research interests during three summer internships in the PTC Office of the CTO, a Boston-headquartered global software company. Extending his knowledge of spatial computing, he worked on a real-time point-cloud generating system that streams body movement in space through depth sensor cameras.
Returning to MIT, Vlavianos integrated this system into the extended reality experience of Simonos Petra, and in the future, will study human behavior in XR when there are multiple users participating in the same experience, a logical expansion of the focus of his dissertation.
"The internship at PTC was one of the most valuable experiences, especially for developing leadership skills," Vlavianos says. "We get to test the ideas we're building at MIT with technical teams out in the field, so we're not just in our own bubbles as researchers."
In addition to presenting and defending his dissertation to a committee that includes his advisor, Professor Nagakura, as well as MIT Professor Caroline Jones and Harvard Professor Samuel Gershman, this summer Vlavianos will begin the MIT-Pillar AI Collective Fellowship, a program that grants seed money to innovative research projects. "I want to explore how I can take an entrepreneurial approach to my research around immersive technologies," Vlavianos says.
Reflecting on the ways of thinking he'll carry forward from MIT, Vlavianos remarks on a simple but profound lesson. "MIT makes you feel comfortable being outside of your comfort zone," he says. "And that's the only way you can invent."
Story originally published June 1, 2023 by Arts at MIT.
Written by Naveen Kumar
Editorial direction by Leah Talatinian