Taking the guesswork out of the architecture business
Image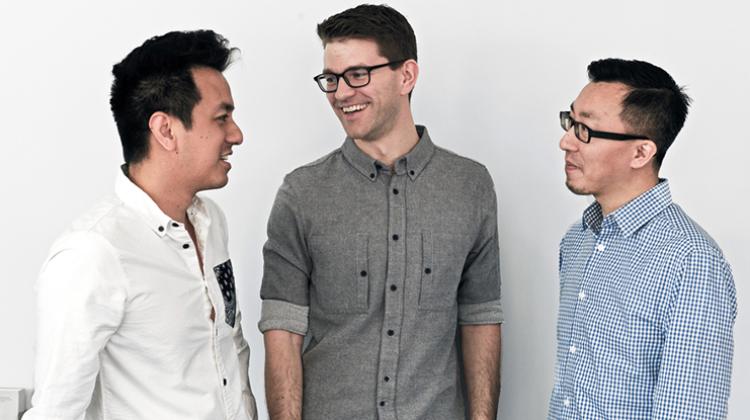 Monograph, a startup founded by MIT alumni, helps architecture firms manage projects and design better buildings.
Managing a building or renovation project really means managing a series of disparate, interconnected tasks. Something as small as a kitchen renovation might involve half a dozen subcontractors including plumbers, electricians, carpenters, and painters. The complexity makes cost and time overruns common.
On the other hand, "Architecture is a passion business," says Moe Amaya MA '14. "Most people don't go into because they want to run the operations of a firm. They just want to design buildings — that's the intrinsic value you want to bring to the world."
Now, the startup Monograph, which was co-founded by Amaya and two others, is helping architects run projects with a suite of business tools that make it easy to understand if a project is on track. Architects use Monograph to make budgets, assign tasks to different team members, send invoices, and make timesheets. Along the way, they can see real-time reports on each project to fix problems before they snowball into profit-crushing delays.
The idea is to remove uncertainty from the building process while giving architects the tools they need to run a successful business.
"A good 50 percent of architects go into business for themselves, but there's a gap in the education around architecture and business," Monograph co-founder Alex Dixon MA '14 says. "When architects explain their business processes to us, they often ask, 'Is there a better way to do it?' They're kind of making it up as they go because they don't have a ton of business education. We're helping them run a profitable business and grow."
Since its founding in 2019, Monograph has attracted more than 800 customers, the vast majority of which are architecture firms with under 50 employees. Co-founders Dixon, Amaya, and Robert Yuen believe their success is due in part to Monograph's ability to help architects focus on what got them into the profession to begin with: designing better buildings.
"I think of Monograph as that layer to help architects understand finance — not through the lens of spreadsheets and graphs and accounting metrics — but through design," Amaya says. "We give them what they need to know as designers to get these projects across the finish line."
Building design solutions
Dixon and Amaya met in their first year of MIT's master of architecture program in 2010. They became fast friends and would be living together by year two. In the summer before his third year at MIT, Dixon worked with the firm of MIT Professor Sheila Kennedy to help design its website, teaching himself to code along the way.
The experience led Dixon and Amaya, who had no formal coding experience, to enter a software competition at MIT. They didn't have the most sophisticated code in the competition, but they ended up earning a prize for their design skills.
The recognition further inspired them to try their hands at software design, and over the next two years they explored various website ideas, entering the Martin Trust Center's delta v summer startup accelerator in 2014 to build a company helping architecture firms design their websites.
"We just started hacking together, took a crack at writing code, and that's where the entrepreneurship journey began," Amaya says.
The founders also took a course at MIT, 4.222 (Professional Practice), taught by the late MIT professor Philip Freelon, that taught them a lot about how a good architecture business is run.
"We loved Philip because he had everything dialed in in terms of how he structured his whole business," Dixon says. "He was a huge inspiration to us. We were glued to his lectures. He ran an incredible business, and we see his spirit in a lot of what we do at Monograph."
After graduation, the pair moved to San Francisco, joining many of their classmates from the architecture program who went on to join architecture firms. They kept in touch with the newly minted architects, and during MIT alumni happy hours they'd ask their former classmates about their projects.
"We heard a consistent refrain: They have no idea," Dixon recalls. "They'd say 'I think we're going to come in on time and budget.' But it was obvious things were operating on anecdotes and hopes. It was reaffirming to see that trend from everyone who was in architecture. That was fuel for the idea of building more of a business dashboard for architects to help them manage the performance of their projects so they could improve their forecasts and better understand the business as a whole."
Around that time Dixon and Amaya partnered with Yuen, and the founders began building tools to help firms manage the business side of running an architecture firm, leveraging their design skills to build tools that streamline several processes and give architects real time snapshots into projects.
Today when an architect creates a new project in Monograph, they enter the phases of the project, the timeline for each task, assign roles to each team member, and make a detailed budget.
Once the project is underway, Monograph visualizes costs and time data so architects can easily see if a project is on track. Team members enter timesheets and add expenses directly into Monograph, making it easy to create invoices for clients. Monograph can also generate project reports and forecast revenue and expenses.
"What's unique in the services industry is that your time is money — it's all billable hours," Amaya says. "A lot of the typical task management tools don't incorporate money. Alex developed this [bar chart] that shows you how far along you are on budget based on the timesheet inputs. For architects, those are two very important data points that other professions might not care about: visualizing money and time together. That's still one of our strongest differentiators."
Better business architecture
The founders say one of the biggest reasons customers use Monograph is because they're interested in growing their architecture firms — and many Monograph customers have done just that. Their customers' desire to grow guides the founders as they decide what features to build next.
"Today Monograph is primarily focused on being business performance software, enabling architects to look at how their projects are performing day to day," Dixon says. "But the ultimate vision of the business is forecasting, so you can look into the future and answer hard questions like, 'Do I have enough work?' and 'Do I need to hire more people?'"
This year Monograph will also begin building tools for the contractors and consultants who work with architects and face similar challenges.
Ultimately Monograph aims to expand the kind of data collected on projects to give everyone a clearer picture into its progress.
"We want to be the whole, end-to-end system of record for the building industry," Dixon says. "Architecture is one part of that, but architects work with many consultants who support the project, from when it goes to bid to the construction to the management of the building. It amounts to hundreds of people working on the same core project, the building, but everybody is using a different system. There's an opportunity to bring all of that information together so there's a lot less double entry and a lot more collaboration."
Story originally published April 13, 2023 by Zach Winn for MIT News.