Closing talk: Restrictive Topographies: the BLACK city
Image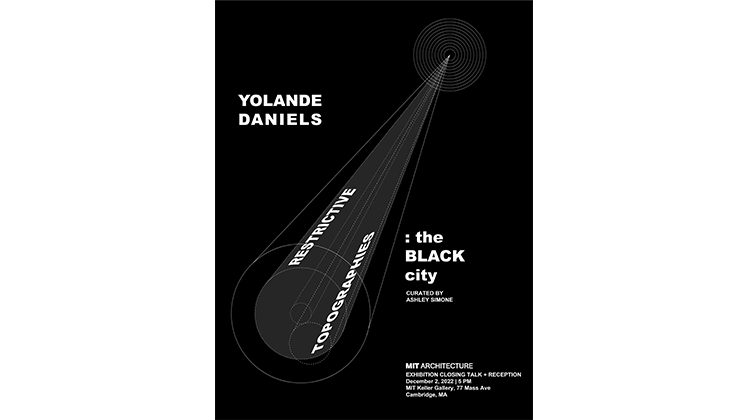 Location
MIT Keller Gallery, 77 Massachusetts Avenue, 7-408, Cambridge, MA
A closing talk about the exhibition Restrictive Topographies: the BLACK city will take place between architect-artist Yolande Daniels and curator Ashley Simone at 5 PM on Friday, December 2, 2022, in the MIT Keller Gallery.
Restrictive Topographies: the BLACK city (Keller Gallery, MIT) examines Black settlements in Arkansas, Los Angeles, and New York, exploring and rendering visible implicit and explicit policies, customs, and beliefs that have affected social structures and power dynamics while shaping the physical spaces of Black settlements. Representative of a body of research by J. Yolande Daniels referred to as Black City Editions, the exhibition summarizes two decades of production. This work ranges from projects that represent duality in the elision between metaphors of blackness and Black embodiment, to projects which use empirical research to trace forces that have influenced the formation of Black settlements.
Complex racial histories reveal how the patterns and structures of the past link to and engender the present. The work distills these histories through various media, including buildings, maps, timelines, glossaries, and games, to provide an alternative reading of Black settlements and community-building methods in narratives of resistance, resilience, and transcendence. Collectively, these narratives seek to compensate for official records of Black spaces that often are ahistorical, a symptom of slavery and subordination. They also manifest the traces and absences of the past as material and spatial presences and generate a foundation for speculation on future possibilities for Black settlements (and Black life). 
Restrictive Topographies: The Black City Exhibition Design Team
Architect-Artist, J. Yolande Daniels
Ashley Simone, Curator
Restrictive Topographies: The Black City Exhibition Production Team
Ekin Bilal, Grace DeMartino, Christopher Dewart, Jensen Avery Johnson, Mara Jovanovic, Namhi Kwun, Sojung Lee, Arusha Nirvan, Agnes Parker, and Cheng Qin (Massachusetts Institute of Technology), with Elizabeth Bobyr and Renan Teuman
MIT Keller Gallery Exhibition Team
Amanda Moore and Jim Harrington

Please contact Amanda Moore <amm@mit.edu> for more information.