Engineering Independence: Concrete Architecture in the Global South
Image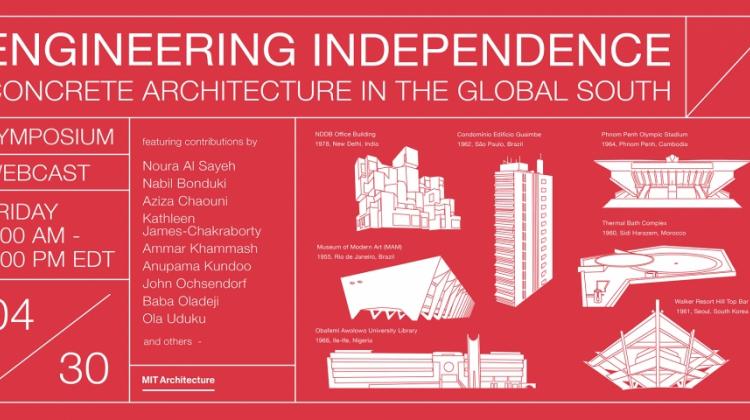 Series
BT Lectures
Public Lecture Series
Engineering Independence: Concrete Architecture in the Global South
MIT Architecture | Spring 2021 Lecture Series
In collaboration with the Building Technology Group
9:00 AM - 1:00 PM, webcast
Engineering Independence: Concrete Architecture in the Global South
Engineering Independence: Concrete Architecture in the Global South explores the global dynamics and local factors that shape the work of structural designers in the Global South, highlighting significant contributions largely omitted from conventional western scholarship. The symposium is organized and developed by students and faculty in the 4.s48 Collaborations in Concrete seminar, led this spring by Caitlin Mueller and Mohamed Ismail.
During the second half of the twentieth century, countries throughout the Global South gained independence from colonial rule. Subsequently, many newly-formed nation states commissioned grand architectural monuments that declared their newfound position on the global stage. At a time when material costs far outweighed the costs of labor, architects and engineers worked in close collaboration to realize these iconic and, quite often, materially efficient structures. A growing understanding of concrete's structural potential paired with the widespread availability of its component materials meant that many of these architectural visions were realized in concrete.
Today, the looming climate crisis demands innovative approaches to sustainable design. Over 90% of global urbanization by 2050 is expected to occur in the Global South. This means that demand for concrete construction in developing countries will rise, as will the environmental costs of concrete construction. Now, more than ever before, we should draw inspiration from post-colonial structural designers while crafting the materially efficient construction of the future.
Engineering Independence: Concrete Architecture in the Global South
Mohamed Ismail is a PhD Candidate in Building Technology at MIT. He is trained as both a civil engineer (BS, Duke University) and architect (MArch, University of Virginia), and he studies the potential for structural and material optimization in the alleviation of housing insecurity in the Global South.
Caitlin Mueller is an academic who works at the intersection of architecture and structural engineering. She is Associate Professor at the Massachusetts Institute of Technology's Department of Architecture and Department of Civil and Environmental Engineering, in the Building Technology Program, where she leads the Digital Structures research group.
Noura Al Sayeh-Holtrop is an architect and curator currently working at the Bahrain Authority for Culture and Antiquities (BACA) as Head of Architectural Affairs, where she is responsible for overseeing the planning and implementation of cultural institutions and museums, as well as the creation of an active agenda of exhibitions. She holds a Master's Degree in Architecture from the École Polytechnique Fédérale de Lausanne. Noura was the co-curator of 'Reclaim', Bahrain's first participation at the 12th Venice Architecture Biennale in 2010 that was awarded a Golden Lion, and the Deputy Commissioner General for 'Archaeologies of Green', Bahrain's National Pavilion at the Expo Milan 2015, awarded a Silver Medal for Best Architecture and Landscape. Since 2015, she heads the 'Pearling, Testimony of an Island Economy' UNESCO World Heritage project, which has been awarded the Aga Khan Award for Architecture for the 2019 cycle.
Anupama Kundoo graduated from University of Mumbai in 1989 and received her PhD degree from the TU Berlin in 2008. Her research-oriented practice has generated people centric architecture based on spatial and material research for low environmental impact while being socio-economically beneficial. Her body of works is currently exhibited as a solo show 'Taking Time' at Louisiana Museum of Modern Art, Denmark till 16 May 2021.  She has taught Architecture and Urban Management at various international universities strengthening her expertise in rapid urbanization and climate change related development issues, and was the Davenport Visiting Professor at Yale University in Spring 2020. She is currently Professor at Potsdam School of Architecture, Germany.
Ammar Khammash is a Jordanian architect, photographer, designer, and artist. He founded Ammar Khammash Architects in the late 80's. He has completed several large-scale projects renovating ancient structures and churches throughout Jordan. He obtained a B.A. in architecture from the University of Southwestern Louisiana in the United States in 1986, and he studied ethnoarchaeology at the Institute of Archaeology and Anthropology at Yarmuk University in Irbid, Jordan in 1987 and 1988. Khammash has been involved with a number of significant historical-architectural constructions and renovations in Jordan that combine his architectural skills with his passion for historical preservation.
Ola Uduku took up a Professorship in Architecture at the Manchester School of Architecture in 2017. Prior to this she was Reader in Architecture, and Dean International for Africa, at Edinburgh University. Her research specialisms are in the history of educational architecture in Africa, and the contemporary issues related to social infrastructure provision for minority communities in cities in the 'West' and 'South'. She is currently engaged in developing postgraduate research and teaching links in architecture urbanism, heritage and conservation between West African Architecture schools and those in North West England. She has in the past published in the areas of African Architecture, African Diaspora Studies, Gated Communities, and environmental design teaching pedagogies. Professor Uduku is also the co-ordinator of the EdenApp Tools for Environmental Analysis Lab, which focuses on developing apps for use in teaching environmental concepts such as lighting, thermal comfort, and acoustics to undergraduates through the use of personal apps and sensors.
Kathleen James-Chakraborty is Professor of Art History at University College Dublin.  She has also taught at the University of Minnesota, the University of California Berkeley, the Ruhr University Bochum, and Yale University, where she was the Vincent Scully Visiting Professor of Architectural History.  Her books include Architecture since 1400 (Minnesota, 2014) and Modernism as Memory: Building Identity in the Federal Republic of Germany (Minnesota, 2018) as well as the edited collections Bauhaus Culture from Weimar to the Cold War (Minnesota, 2006) and India in Art in Ireland (Routledge, 2016).  In 2019 she became the first woman to be awarded a gold medal from the Royal Irish Academy.  In June she will give the opening plenary lecture for the European Architectural History Network conference.
Nabil Bonduki is a Full Professor at University of Sao Paulo and was a Fulbright Visiting Scholar in University of California, Berkeley. Bonduki's trajectory has interwoven academic activities and public policy management in planning, housing, environment and culture. His career as a researcher contributed to his work in the public sector and his professional experience gave more reach, wealth, and concreteness to his research and teaching activities. In the city of São Paulo, he is former superintendent of affordable housing (1989-1992), former City Councilor (2001-2004 and 2013-2016) and Secretary of Culture (2015-2016). Bonduki was the rapporteur and author of the Law of Strategic Master Plan of the City of Sao Paulo in the City Councilor (2002 and 2014). He worked as the coordinator of the Brazil's National Housing Plan (2007-2008) and acted as the National Secretary of Urban Environment of the National Ministry of Environment (2011-2012). He worked in planning and housing in several others Brazilian cities and advised or collaborated with various housing movements. He's author of 14 books, as The Struggle for Urban Reform in Brazil (2018), Pioneers of Social Housing, in three volums (2015, Jabuti Award in the Category "Architecture, Urbanism, Art and Photography), Urban Interventions in Historical Centers (2012), Affonso Eduardo Reidy (2000) and Origins of Social Housing in Brazil (1998). He is columnist of Folha de São Paulo, of biggest newspaper of Brazil.
Aziza Chaouni is an Associate professor of Architecture at the University of Toronto, John H. Daniels Faculty of Architecture, Landscape, and Design and the Founding Principal of the design practice Aziza Chaouni Projects (ACP) with offices in Fez, Morocco and Toronto, Canada. She is also the Director of the Designing Ecological Tourism Research platform at the Daniels faculty. Aziza Chaouni has been an educator, research, activist and practicing architect, working principally in Global South countries including her homeland Morocco, Jordan, Senegal and Sierra Leone. Chaouni's design work has been recognized with top awards for both the Global and Regional Africa and the Middle East Holcim Award. azizachaouniprojects.com
Baba Oladeji is an architect who is interested in transforming everyday communities through sustainable design. He received his architectural education from Nigeria's University of Lagos and University of Brighton (UK). As Director of Sustainable Design at Ministry of Architecture, he marries architectural practice with intellectual rigour resulting in intelligent buildings that balance commitment to patrons and the planet. He has built in communities everyone is looking away from including Plot 30, Jericho Ibadan which is a  private home with a courtyard as its key organizing element and most recently a food-processing factory in Oshogbo, Nigeria that hopes to sustain a culture of productivity through its corner-piece showroom. In 2018, he was recognized by Conde Nast as one of the "5 Nigerian Architects You Should Know" and The Folklore featured him as one the "7 West African Architects You Should Know" alongside Sir David Adjaye OBE, Francis Kere and Kunle Adeyemi. Alongside architectural practice, Baba is Founder of the A3 : Archives of African Architectures project, documenting the built environment in Africa for today and future generations of architects.
John Ochsendorf is the Class of 1942 Professor of Architecture and Engineering at MIT. He is a structural engineer with multidisciplinary research interests including the history of construction, masonry mechanics, and sustainable design. Ochsendorf and his students collaborated closely with architect Peter Rich in the design and construction of the Mapungubwe Interpretive Centre, which was named World Building of the Year in 2009. As a founding partner of the consulting firm Ochsendorf DeJong and Block, he contributed to two major installations at the 2016 Venice Biennale of Architecture. In addition, his group has developed early-stage design tools for use by both architects and engineers. Ochsendorf is the author of "Guastavino Vaulting: The Art of Structural Tile" (Princeton Architectural Press, 2010) and numerous technical papers and essays in structural design and mechanics. His work has been supported by the Rome Prize, a MacArthur Fellowship, a Fulbright Grant, and numerous research grants. From 2017-2020, Ochsendorf served as the director of the American Academy in Rome.