Exhibition Opening: Iraq: Beyond the Two Rivers
Image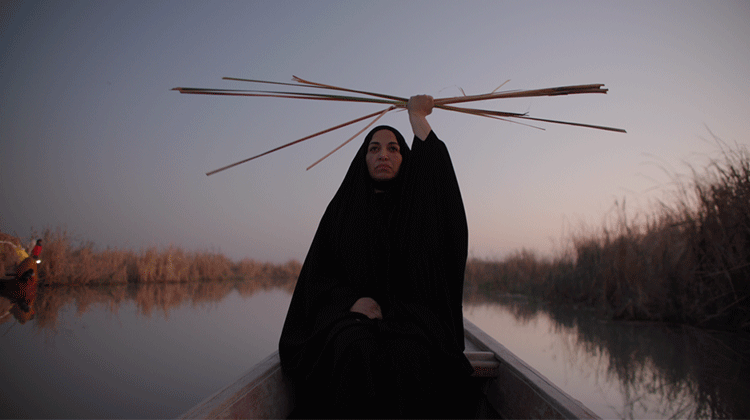 Location
The Keller Gallery at MIT 77 Massachusetts Avenue, Building 7, Room 408, Cambridge, MA 02139
Join us on October 6, 2023 at 5:30 pm for the opening of a new Keller Gallery exhibition, Iraq: Beyond the Two Rivers, an exhibition curated by Huma Gupta, Assistant Professor in the Aga Khan Program for Islamic Architecture.
Iraq: Beyond the Two Rivers is a transhistorical meditation on architectural ambition, great migrations, urban design, climate change, and the radical promise of other ways of dwelling and building in today's world. This exhibition is inspired by Dr. Huma Gupta's fifteen years of architectural research on Iraq for her forthcoming book The Architecture of Dispossession. It puts artworks by renowned contemporary Iraqi artists in conversation with works Gupta commissioned and produced with a team of MIT students. The exhibition takes viewers on a multimedia journey through a video art piece by Sama Alshaibi set in Iraq's marshes, an animation by Sadik Kwaish Alfraji set in Baghdad's migrant neighborhoods, film stills from Hussein al-Asadi's forthcoming documentary, a photograph by Mohanad al-Sudany focused on indigenous buffalo-breeding communities, an architectural model composed of reeds, earth, and cement by Bella Carmelita Carriker, and a large mixed media mural with archival video by Huma Gupta, Hajar Alrifai, and Mahwish Khalil.
On the twentieth anniversary of the 2003 U.S. invasion and the fourth anniversary of the 2019 Tishreen protest movement, it is also necessary to move beyond narratives of conflict to engage with the deeper histories of al-Iraq – a place known by many names such as Sumer, Mesopotamia 'land between rivers,' cradle of civilization, site of the great flood, or even the garden of eden. At the heart of its civilizational lore stand two great rivers – Tigris & Euphrates. Their alluvial plains and convergence open to thousands of miles of marshlands abundant with reed, clay, flora, fauna, and trade routes to the Indian ocean, which over 7,000 years ago facilitated early experiments in city-making. However, rapid urbanization and construction of monumental structures like Ziggurats also gave rise to cautionary tales of Great Floods and mass deforestation leading to the near demise of humanity in the Epic of Gilgamesh. 
Today, however, Iraq is the fifth most vulnerable country to extreme temperatures, water scarcity and food shortages. And situated on top of some of the largest oil reserves in the world, Iraq's marshes and its inhabitants have been targets of ecocide since the 1980s. Iraq's Water Resources Ministry recently projected that the Tigris and Euphrates rivers will run dry within Iraq by 2040 due to the confluence of upstream dams and effects of climate change. Although catastrophe rapidly approaches, this exhibition reminds viewers of other models of care, craft, kinship, wetland stewardship, and interspecies cohabitation that persist and hold the potential to revive this ancient landscape. In the words of Malcom Ferdinand, "To unsettle the Anthropocene announces the search for new sea and land arrangements through which, faced with the storm, it is possible to inhabit the bridge together and to build a world-ship" (Decolonial Ecology, 2022).
About the MIT Department of Architecture
The MIT Department of Architecture opened its doors in 1868 as the first Architecture department in the United States. MIT Architecture is currently home to around 250 graduate and undergraduate students. Numbered among the Department's over 5,000 alumni are Sophia Hayden '1890, Robert R. Taylor '1892, I.M. Pei '40, and Charles Correa '55. 
About the Keller Gallery at MIT
The Keller Gallery was established in the fall of 2011 with a generous donation of materials and labor in kind from Shawn Keller, principal at C.W. Keller & Associates. The 200 square foot gallery presents faculty, student, and experimental work, including work from alumni and friends.
This Exhibition was generously funded by the MIT Department of Architecture, the Aga Khan Program for Islamic Architecture, the Art, Culture & Technology Program, and the Aga Khan Documentation Center. Keller Exhibition Team: Amanda Moore, Jim Harrington, Joél Carela, and Jeonghyun Yoon. Special thanks to the MIT Architecture Lectures and Exhibitions Committee. 
Visitor Information
The Keller Gallery at MIT
77 Massachusetts Avenue, Building 7, Room 408, Cambridge, MA 02139
Free and open to the public
Monday through Saturday, 9AM to 6PM

Curator Contact
Huma Gupta
Aga Khan Assistant Professor in Islamic Architecture, MIT Department of Architecture
guptah@mit.edu
Media Contact
Joél Carela
Communications Coordinator, MIT Department of Architecture
jcarela@mit.edu/ 617-253-0692