Image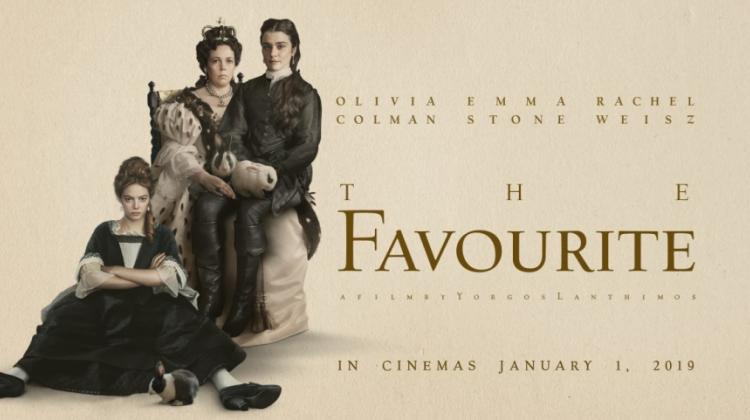 The Favourite (2018)
Directed by: Yorgos Lanthimos
Presented by: Elizabeth Browne (HTC PhD), Delanie Linden (HTC PhD)
Part of the Spring 2021 Cinema and Architectural Imagination series
Join the Zoom discussion on May 05, 2021 at 6 PM EST
About the film:
It's the early 18th century and England is at war with the French. Nevertheless, duck racing and pineapple eating are thriving. A frail Queen Anne occupies the throne, and her close friend, Lady Sarah, governs the country in her stead, while tending to Anne's ill health and mercurial temper. When a new servant, Abigail, arrives, her charm endears her to Sarah. Sarah takes Abigail under her wing, and Abigail sees a chance to return to her aristocratic roots. (Text courtesy of Google)
About the presenters:
Elizabeth Browne is a sixth-year doctoral candidate in the History, Theory, and Criticism of Art and Architecture program. She recently defended her dissertation, "Modeling the Eighteenth Century: Clodion in the Ancien Régime and After." Elizabeth's research focuses on the history and aesthetics of ceramic sculpture, eighteenth-century interior and garden design, theories of sensuous perception, and the reception of antiquities in eighteenth-century France. Elizabeth received her B.A. at the College of William & Mary and her M.A. at the University of Florida, both in art history. Before coming to MIT, she held positions at the Samuel P. Harn Museum of Art, the Santa Barbara Museum of Art, and the Museum of Fine Arts, Boston. In addition to numerous institutional grants, her work has been supported by the New England Chapter of the Society of Architectural Historians, the Deutsches Forum für Kunstgeschichte, the Decorative Arts Trust, the American Ceramic Circle, and the Paul Mellon Centre for Studies in British Art. Following graduation in June, she will be teaching at Georgia State University, before applying to post-doctoral fellowships.
Delanie Linden is a third-year doctoral student in the History, Theory, & Criticism of Art and Architecture program. Her dissertation examines the materiality and conceptions of color in early nineteenth-century France. She charts the entangled history of colorants, chemistry, tapestries, and textiles which shaped the making and reception of French art. She has long been interested in the intersections of art and science in the Enlightenment and Industrial periods, which is what drew her to MIT. She is also a practicing oil painter and is currently painting a series of artworks for exhibition at MIT, a project generously funded by CAMIT. Before coming to MIT, Linden earned a BA in Neuroscience and Art History from the University of Michigan and an MA in Art History from SMU. She has worked in the curatorial departments of numerous museums, including the University of Michigan Museum of Art, Laguna Art Museum, and The Degolyer Library.
Learn more about the Spring 2021 Cinema and Architectural Imagination Series
Above image: Film Poster, "The Favourite," directed by Yorgos Lanthimos (2018)