Monumental Lies: Robert Bevan: Culture Wars and the Truth about the Past
Image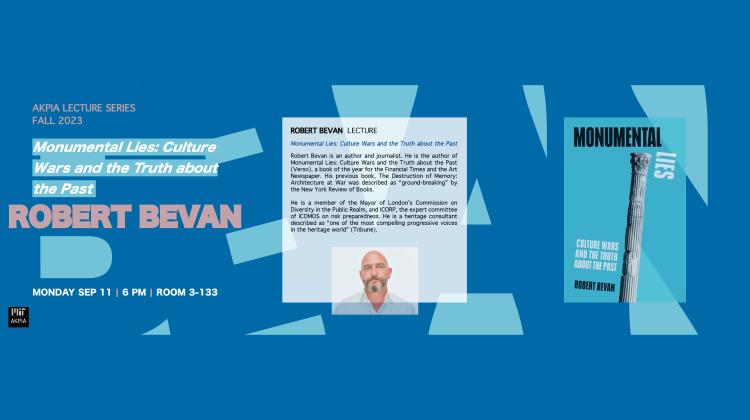 Contact Name
Diana Rooney
Fall 2023 Aga Khan Program Lecture Series
See full lecture here: https://mit.hosted.panopto.com/Panopto/Pages/Viewer.aspx?id=013a9f65-5fce-44c1-a371-b07601429b16
Robert Bevan is an author and journalist writing on architecture, heritage and cities. He is the author of Monumental Lies: Culture Wars and the Truth about the Past (Verso), a book of the year for the Financial Times and the Art Newspaper. His previous book, The Destruction of Memory: Architecture at War was described by The Independent as one of the top ten architecture books of all time and as "ground-breaking" by the New York Review of Books.
He has also co-authored and contributed to other books on architecture including Common Ground, the reader accompanying the 13th Venice Architecture Biennale. His work has been translated into several languages.
Robert is the architecture critic for the Evening Standard in London and has written for newspapers, architecture and arts magazines internationally. In the UK these include The Guardian, The Sunday Times and The Economist.
He is also a heritage consultant specialising in area-based, heritage-led regeneration and heritage at risk and has been described as "one of the most compelling progressive voices in the heritage world" (Tribune).
He is a member of the Mayor of London's Commission on Diversity in the Public Realm and of ICORP, the expert committee of ICOMOS on risk preparedness and of Blue Shield UK, a  UNESCO-related committee that addresses heritage in conflicts. Robert is based in London.
Monumental Lies: Culture Wars and the Truth about the Past 
The past is weaponised in culture wars and the city is cynically edited by those who wish to impose their ideology upon the physical spaces around us. This is not just about statues of slavers or colonialists; Holocaust deniers, for example misuse details of the ruins of the gas chambers at Auschwitz to promote their 'no holes; no Holocaust' lies.
To guard against this manipulation, the preservation of the material evidence of history is crucial. Yet long-standing concepts such as 'authenticity' in heritage are being undermined by gatekeepers such as UNESCO and by the prioritisation of memory and impressions over facts.
The past cannot be denied but nor should it be allowed to stand without criticism. In Monumental Lies: Culture Wars and the Truth about the Past, Robert Bevan argues that if monuments and architecture really are evidence then we need to be inventive about transforming sites of honour into sites of shame.
Learn more about Robert Bevan: https://authenticfutures.com/
MIT Building 3, Classroom 133 and Live Stream https://mit.hosted.panopto.com/Panopto/Pages/Viewer.aspx?id=013a9f65-5fce-44c1-a371-b07601429b16