REGENERATE: A Critical Intersection of AI, Urbanism, and Climate Change
-
Image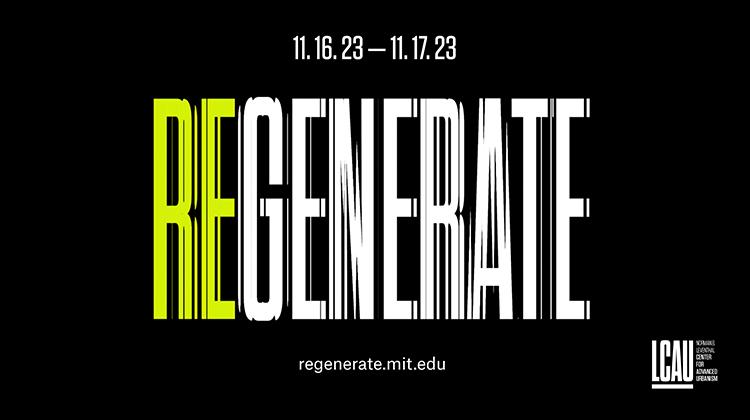 Join the Norman B. Leventhal Center for Advanced Urbanism to celebrate the ten year milestone of the LCAU through an exploration, critique, and discussion of the evolving relationship between urbanism, emerging technologies, and climate change.
Urban environments everywhere are experiencing climate change challenges while facing the promise and perils of new technological innovations. Conversations during this two-day event seek to explore, critique, and discuss the evolving relationship between the use of emerging technology in addressing the health, resilience, and justice of urban environments as we build a new climate future.
Openly available generative AI and algorithmic models have increased exponentially in the last decade, and these tools have already become embedded in our daily lives. City governments, urban designers, and planners are increasingly grappling with how to use them to design resilient urban futures. At the same time, cities worldwide are experiencing record-breaking temperatures, and daily news on wildfires, drought, extreme heat, and flooding worldwide point to the urgent need to plan for and adapt to our changing climate. Cities play an important role in developing a climate-positive future by rethinking our infrastructure and creating radical changes to energy and transportation systems, the built environment, and land use. Technology can help transition towards a climate-positive future. Yet, its application must shift the typical power dynamics embedded in these systems and seek to develop tools that include all voices and ways of knowing.
Envisioning an optimistic climate future for urban environments takes an interdisciplinary imagination. Each panel draws together voices from the arts, humanities, and scientific community and places them in discussion with urban practitioners, city governments, and industry. Through the conversations during this two-day event, we seek to explore, critique, and discuss the evolving relationship between cities, emerging technologies, and climate change. We seek to learn how to create the human dialog needed to work with AI systems. Discuss how technology applied towards climate change includes all voices and ways of knowing. How can governments and communities use technology to aid in designing cities responsive to climate change? How do we imagine a new future for the planet? What role does design play in developing that vision?
LCAU launches the conference by learning from Costa Rica's revolutionary decarbonization plan, creating a vision for a net zero future catalyzing countries worldwide. The conference closes with a keynote lecture from Liam Young, who develops new imaginaries for the post-climate future, inspiring all of us to create a new vision for the planet's future.