Alia Farid "In Lieu of What Is" | Solo Exhibition at Kunsthalle Basel
Image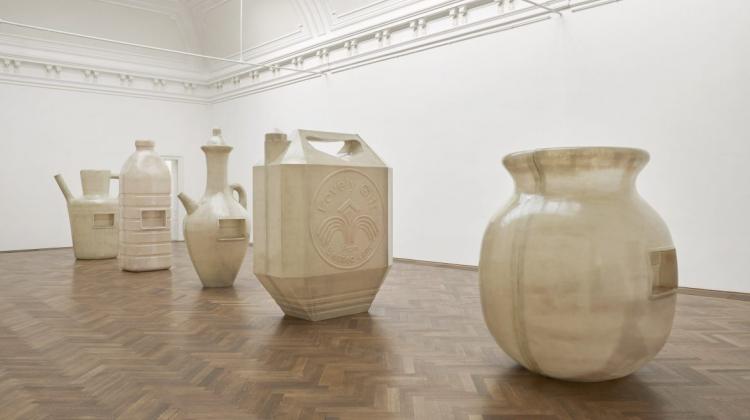 Image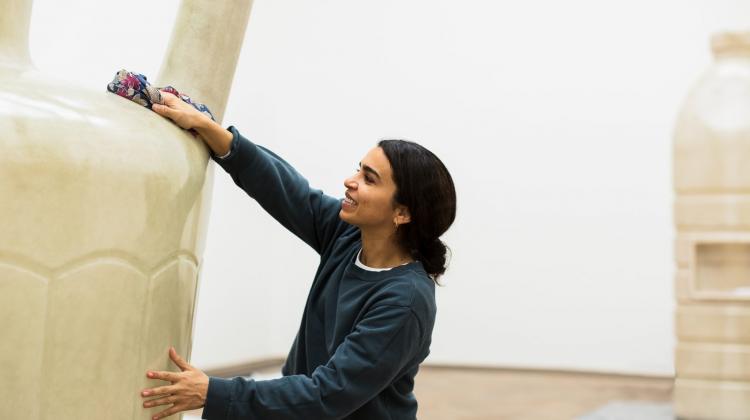 Published
December 12, 2021
"Thousands have lived without love, not one without water" British poet W. H. Auden famously wrote. It seems fitting to recall his words here, in an introduction to Alia Farid's work because, in a certain sense, much of the art she has made in recent years comes down to love and water. Entwined with these basic human needs are the contradictory forces of conflict and nature, ideology and ecology, vulnerability and justice, and ultimately, the ways in which greed and vengeance—love's antagonists—have historically weaponized water in the Arab world. It is this region and a complex of concerns on which the Kuwaiti Puerto Rican artist focuses her first exhibition in Switzerland.
In this exhibition, Farid presents three bodies of new work: a series of monumental sculptures that imposingly stand in the main space, as well as a sound piece and a display of found textile harnesses to be encountered in the adjacent rooms. With a spareness that belies the complexity of the histories that she probes, the artist follows the trails of water as a political agent in the Arab region.
The first room of the exhibition features an installation of five larger-than-life vessels used to store and carry water—a globular copper lota, a plastic jerrican, a clay juglet with a small lid, a now-ubiquitous PET-plastic water bottle, and a ceramic pitcher. Farid's versions are enormous but hollow and light, molded in lacquered fiberglass, colored like the desert sand and fabricated using the same method as the decorative casings for public drinking fountains that have become a distinctive feature of the urban landscape across the Arabian Gulf. Over the past few years, the artist has been working with commercial fountain producers to develop constellations of these sculptures (sometimes casting copies from existing molds, sometimes creating her own) as a way to intertwine a centuries-old tradition of public drinking fountains with the reality of water desalination in the region—the lack of available fresh water being an ecological consequence of government policies and the activities of industries that have prioritized oil extraction above nearly all else.
If the circulation of water can be read throughout her exhibition as a metaphor for the circulation of lifeblood, it is also a metaphor for the flow of capital, power, and violence. Across its three rooms and three bodies of interlocking artworks, In Lieu of What Is unspools a reality seemingly far from our own, yet intrinsically connected to ours not least by way of the petrochemical products we consume every day. The artist conjures a place riddled with complexity through the lightest of touches and in the hushed hues of its wind-swept deserts and marshy waters. There is a formal serenity to her project, despite the various injustices that instigated it; it asks us what would happen if respect, generosity, and care—in short, love—came in place of (in lieu of what is) repression, powerplays, vengeance, and profit margins. Farid, with Qasim's tender interspecies call echoing in her head, asks us to try, for a moment, to imagine it.
Alia Farid was born 1985 in Kuwait City and lives and works in Kuwait City and San Juan. Farid contemplates colonial histories, cultural rituals, and the social dimension of architecture. For her first institutional presentation in Switzerland, the Kuwaiti Puerto Rican artist crafts a monumental installation of new work, bringing disparate sites in relation to each other so as to imagine a transregionalism that belies national boundaries drawn on land.
Full press release can be found here in English.