Emma Yimeng Zhu 朱艺蒙 (SMACT '21) Brings Ideas to Life
Image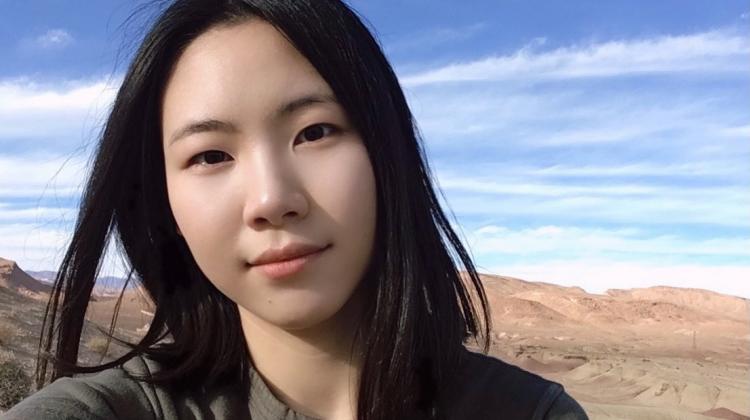 Published
December 12, 2021
Source
Article by Sarah Baker
Emma Yimeng Zhu 朱艺蒙 (SMACT '21) is fascinated by lines. By the boundaries they form, by the blurring of them, and by how we might look and think about them differently. She became intrigued by the relationship between the human body and the built environment as an undergrad in architecture school. At MIT, in the Art, Culture, and Technology program (ACT) in the Department of Architecture, she was able to not only expand upon her ideas, but manifest them. Today, she works both in architecture and visual art and makes video, installations, as well as co-founding 坐北朝南 an architectural design studio in Beijing that soon hopes to open a branch in the United States.
THE FOUNDING OF PPPPRESS
Zhu is also someone who "brings out the best in others…[she] gets a project from concept to delivery," says Sarah Hirzel, Curator of the MIT Wiesner Student Art Gallery. She is a strong collaborator and brought to fruition ppppress, a publishing press, with her fellow classmates, Chucho Ocampo, Po-Hao Chi, and Aarti Sunder that was the focus of a recent exhibit at the gallery.
"ppppress dances between digital and analog, high tech and craft, silkscreen and photocopy," according to that exhibit's wall text. The idea for the press came about in the summer of 2020, in the midst of the COVID lockdown. "We needed something tangible to keep us connected during that really depressing summer," said Zhu.
"The intention, initially, of [ppppress] was quite unusual," says Zhu. The four of them became interested in the Center for Advanced Visual Studies (CAVS) Special Collection archive, which contains 45-years-worth of material from over 200 artists. György Kepes founded CAVS, a predecessor of ACT. ACT came from the merger of CAVS and the Visual Arts Program (VAP). The old-fashioned materiality and the interdisciplinary aspects of the archive appealed to Zhu and her collaborators. They learned about the history and struggle of creating a physical space at MIT for an unconventional art program. "That's what we wanted to reenact as part of this show," says Zhu. CAVS archivist Thera Webb gave Zhu and her colleagues access to the archives and they manipulated the different materials to recreate a fictional version, or their interpretation of the contents and events.
ppppress (the name "potato, potato, potato press" was coined one COVID dinner when Zhu and her classmates only had potatoes to eat) centers around a Risograph, a photocopier/printer based on Japanese printmaking techniques. Loved by artists because of its highly saturated color, its beautiful pigmentation, and its irregularities in output, it was the perfect tool for their press. Finding a Risograph during COVID was a challenge, but Zhu and her classmates were able to lease one for a multi-year contract with the help of funding from the Council for the Arts at MIT (CAMIT), ACT, and the Department of Architecture.