Image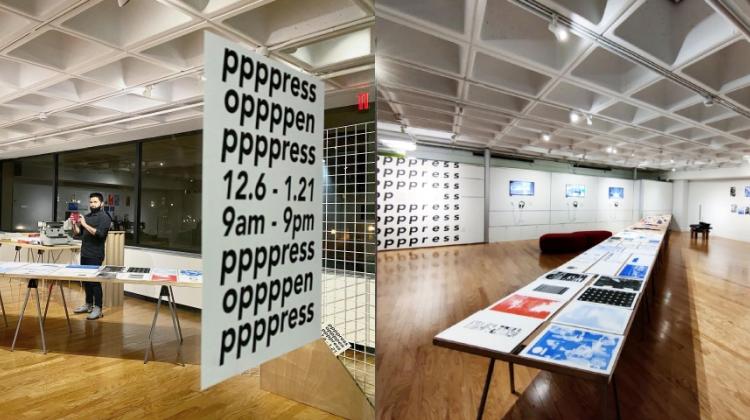 Published
December 13, 2021
December 6, 2021 – January 21, 2022
Gallery is open 9:00am – 9:00pm daily
MIT Wiesner Student Art Gallery
Stratton Student Center,
MIT Building W20, Second floor
84 Massachusetts Avenue, Cambridge, MA 02139
ppppress Is a press launched by students and alumni of the Art, Culture and Technology program at MIT. ppppress dances between the digital and the analog, between high tech and craft, between silkscreen and photocopy. ppppress is currently experimenting with risography. A Risograph, a perfect binding machine, a guillotine, a silkscreen, a press, a digital duplicator. A mimeograph married to a xerox machine with a scanning bed on top.
This project was born during peak COVID when the need to come together to think and produce was crucial. We often tend towards the written word as a part of our artistic practice, and engaging with artist books as a conduit for experimentation was an important step to take. Certain kinds of images, words and ideas are represented best in mass-produced replicable formats where engagement with a wide audience is as crucial to the work as animation can be to video. What is best suited to be a book, we believe, should be one. 
Here we have engaged in the act of making a book, right from combing through an extensive archive and locating an alternative story line that emerged from positioned images and text to form a narrative. Can the abstraction of the printed and bound set of papers function as a potential moving object, or a sculpture or an installation? Here we try to treat a book as a 2 and 3-dimensional space. How can we re-imagine events that already took place, into something else, something new(er)? 
As an experimental press, we are also interested in printing and binding as a very hands-on, mechanical and acutely creative, craft-driven process. Experimenting with risography was an immense learning moment to understand the beauty and precision of crafted mass production.
ppppress' inaugural project is an engagement with the Center for Visual Studies (CAVS) archive at MIT. The archive-repository contains 45 years of artist work at MIT ranging from historical material that includes photos, books, posters, documents, portfolios, films, videos and audio tapes. We focused on bureaucracy, non-linear storytelling and film through repurposing image, text and alternating scales. 
Scholars, designers, artists and scientists across MIT have also been invited to collaborate and publish with ppppress through an open call. Printed matter ranges from architectural drawings, data visualization, letters, prompts, scientific imagery.
ppppress will also be conducting workshops for the MIT community on book making, printing, storytelling and using the archives over IAP in January.
Currently ppppress is Chucho Ocampo, Yimeng Zhu, Chi Pohao, Faruk Sabanovic and Aarti Sunder. Follow us on Instagram @ppppress_
The CAVS archive has been organized and made available to us by Archivist Thera Webb. 
Compiled, edited and bound by ppppress
Printed in Risography by ppppress
Supported by ACT Program at MIT, CAVS Special Archive, MIT Architecture Department, CAMIT, MIT Transmedia Storytelling Initiative, and Arts at MIT.