Image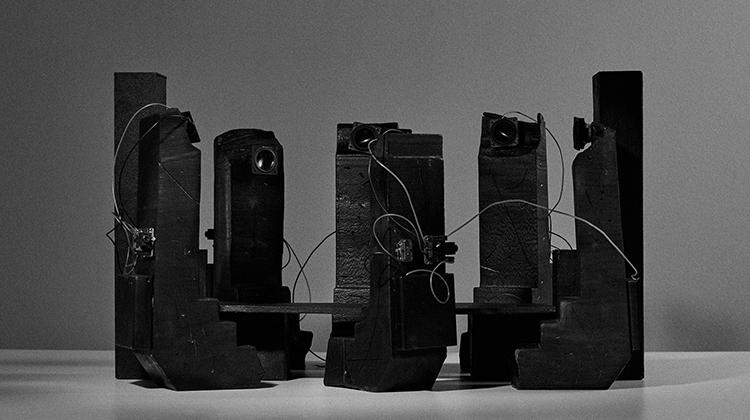 Press release

RECORDAR
On view April 7–May 12, 2023
MIT Keller Gallery, 77 Mass Ave, 7-408, Cambridge, MA

Opening reception April 7, 2023, 5:30 PM

RECORDAR: Architectural designer and storyteller Deborah Garcia to present exhibition and sound event that launches multi- channel interactive sound tower

MIT announces RECORDAR, an exhibition by Pietro Belluschi Fellow Deborah Garcia, will open at MIT's Keller Gallery on April 7 with an introductory live performance. The installation will be on view from April 7 through May 12. RECORDAR is a multi-channel recording and broadcasting sound system scaled to the dimensions of a theatrical nearly 9-foot tall sound tower, a vessel for acts—past, present, and future. Conceived of as a sound-throne, a built-in space for sitting and communing at the base of the tower provides an opportunity to experience low frequency vibrations oscillating through the material of the tower. A rumbling porch, a staircase towards a dark portal of inner thunder and sonic layering. 

When activated for live performance, the recording system can be engaged and disengaged through a touch-sensor system. When not engaged for live performance, the sound tower processes an archive of recordings, both past and present, into a real-time audio experience, layering, looping, and remixing sounds from its recorded history. Remembering, recordando. The ghostly history of RECORDAR is present even when not occurring in real-time or in the space itself.

Visitors are encouraged to touch or sit at the base of the tower where low-frequency vibrations are felt by the listener. 

About the Project
"RECORDAR marks three years of research, experiments, and pedagogy that I have developed as a research fellow in the MIT Department of Architecture exploring the power of sound and storytelling in architecture. Can intimacy, and deep listening, be a part of our public spaces? Can sound, and sonic interfaces, allow us to dive below the surface of the built environment— beyond the facade? I use the loudspeaking power of RECORDAR as a tool for broadcasting, layering, and experiencing a live history, and, in turn, advocate for a louder, interactive form of architecture" says Deborah Garcia.

Over its month-long installation period in the Keller Gallery the RECORDAR sound system will listen, amplify, and embody a series of dialogues spanning issues of personal, institutional, and immediate sound histories. 

Performances

April 7, 2023, 5:30 PM, Open to the Public
RECORDAR opening performance and zine party. The sound system will listen in on a live dialogue that will engage the sound system's recording, live editing, and remixing capabilities, navigating what it means to be on or off the record. A novel transcription code will allow a speedy publication to be produced, a quick and dirty but perhaps more honest version of what tends to disappear in typical publication and knowledge creating processes: candor, honesty, and spontaneity. Refusal will become an active tool for creating gaps, breaks, and jumps in the experienced and remembered dialogue. A multi-channel live stream will be hosted in the Long Lounge. The video performance will be followed by an immediate release party of the RECORDAR transcript. Join us for cocktails, drinks, and food.

April 11, 2023, 10:00 AM, Open to the Public
RECORDAR will remember the MET Warehouse. Presented by the sonic researchers of the workshop Spectres of Architecture: Investigating Belonging(s) at the MET Warehouse led by Deborah Garcia. Graduate students Jenna Schnitzler and Iris Yuting Zeng, will present a history of the MET Warehouse, and its presence in the anti-war student-led protests of 1969, its vast storage micro-dramas, and its current state of sonic and material leakage. Visitors are encouraged to listen and play a loud-speaking model of the MET Warehouse that will be plugged into the larger RECORDAR soundsystem and view a video compilation of the workshop's semester-long sound recording sessions in the building's current redevelopment, as well as curated archival material. 

About Deborah Garcia
Deborah Garcia is a designer, writer, and curator. She holds a Masters of Architecture from Princeton University and a Bachelors of Architecture from the Southern California Institute of Architecture. She was a recipient of the Princeton University Butler Travelling Fellowship which took her to the corporate agricultural complex of the United States heartland where she was a resident at ARTFarm Nebraska, and was an invited participant for the 2019 Arctic Circle Expedition in the international territory of Svalbard, Norway. She was a co-curator of THE DRAWING SHOW at the A+D Architecture and Design Museum in 2017 and curator of One Night Stand for Art and Architecture-LA in 2016. She is the current Belluschi Fellow at the MIT Department of Architecture where she is currently exploring loud-speaking methods, models, and mediums in architecture.

About the MIT Department of Architecture
The MIT Department of Architecture opened its doors in 1868 as the first Architecture department in the United States. MIT Architecture is currently home to around 250 graduate and undergraduate students. Numbered among the Department's over 5,000 alumni are Sophia Hayden '1890, Robert R. Taylor '1892, I.M. Pei '40, and Charles Correa '55.

About the Keller Gallery at MIT
The Keller Gallery was established in the fall of 2011 with a generous donation of materials and labor in kind from Shawn Keller, principal at C.W. Keller & Associates. The 200 square foot gallery presents faculty, student, and experimental work, including work from alumni and friends.

RECORDAR was supported by the MIT Department of Architecture, and by the MIT Center for Art, Science & Technology through a 2021-22 Fay Chandler Creativity Grant. RECORDAR Sound Design by Cristobal Garcia Belmont; Transcription Programming by Max Addae; Tower Structure Fabrication by Smart Department; Panel Fabrication Team: Ian Erickson, Mara Jovanovic; MET Warehouse Workshop: Jenna Schnitzler, Yuting Zeng; Exhibition Identity by @graphicservicesnyc; and Photography by Brooke Holm. Keller Gallery Exhibition Team: Amanda Moore, Jim Harrington, and Joél Carela. Special thanks to the MIT Department of Architecture Lectures and Exhibitions Committee.
Visitor Information
The Keller Gallery at MIT
77 Massachusetts Avenue, Building 7, Room 408, Cambridge, MA 02139
Monday through Sunday, 9AM to 6PM

Media contacts
Amanda Moore
Communications Strategist, MIT Department of Architecture
amm@mit.edu / 617-253-0692

Leah Talatinian
Senior Officer for Marketing and Communications, Arts at MIT
leaht@mit.edu / 617-253-5351