Strategy & Equity: Recent highlights
Image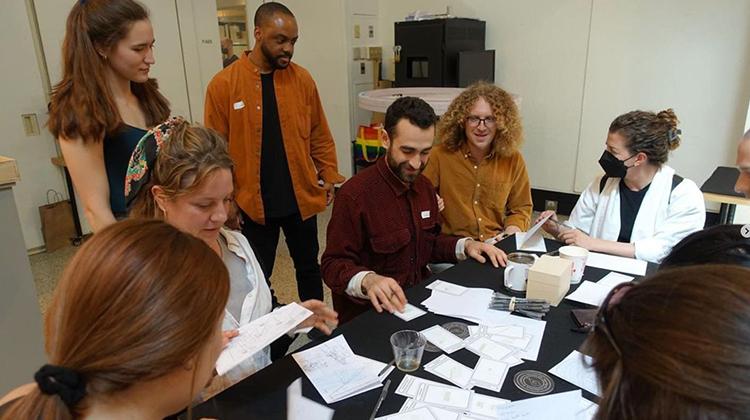 Since its formation in June 2020, the Strategy & Equity (S&E) team in the Department of Architecture has worked to evaluate, challenge, and change our administrative and community responses to issues concerning diversity, equity, and belonging (DEB). The team was formed by Professor and Department Head Nicholas de Monchaux and continues to be led this academic year by Professor Terry Knight, Associate Department Head for Strategy and Equity. Last year's team included Mohamed Ismail (student representative through summer 2022), Ina Wu (student representative starting fall 2022), Inala Locke (staff representative), and Lauren Schuller (Diversity, Equity and Belonging Officer). Here are a few recent highlights from Fall 2021 through Fall 2022 and previews of upcoming work. 
In the spring of 2022, the S&E team marked a critical milestone with the Department's  hiring of Diversity, Equity, and Belonging Officer, Lauren Schuller. Schuller has played an integral role on the S&E team, bolstering its work to identify and review DEB-related areas of concern among students, staff, and faculty and helping to address specific concerns identified last year. A DEB page on our department website, with highlights of DEB work, activities, and resources, was also launched.
Recent S&E work focused on: data collection; outreach and recruitment; graduate student admissions; student support; faculty hiring, support, and retention; staff community and support; departmental climate and culture; curriculum; communications and public image. For each focus area, S&E outlined goals, suggested new policies, helped implement readily actionable items, and made recommendations for next steps in the creation and maintenance of better DEB practices. Highlights of S&E work included:
Graduate Admissions
One ongoing priority of the S&E team and the Department is to create, enhance, and support a more diverse body of students. To continue our movement in this direction, several changes have been made. The SMArchS admissions overview meeting to review underrepresented applicants was reinstituted. For our Spring open house, Schuller presented department DEB info and the MIT National Organization for Minority Architecture Students (NOMAS) was part of a student session. In both 2022 and 2023, a workshop was conducted on bias in the admissions process, which was attended by faculty and student members of the admissions committees. This year's workshops were co-facilitated by Schuller and Professor Les Norford, and plans are being made to host an admissions debrief session with department leadership as well as additional workshops with admissions committee members. Two new programs, the Applicant Mentorship Program (AMP) and ArchCatalyst, developed to offer support for applicants from underrepresented backgrounds, continued into the 2022 and 2023 academic years and saw an increase in participation. A new graduate program application platform was deployed this fall. The platform includes revised text prompts more welcoming to diverse applicants with a wide range of interests and talents, and will be connected to an outreach database.
Graduate Student Support
To further the goal of providing better academic, financial, social, and emotional support for graduate students, the S&E team worked with the department on several items. The peer-to-peer student support program Resources for Easing Friction and Stress (ArchREFS) continued with new student leaders and new approaches. Sacha Moreau and Boshra Moosavi served as ArchREFS in the 2022 academic year, and in January 2023, Manavi Dixit took over for Sacha who finished his MArch program in the fall. In response to student concerns about advising and mentoring, the S&E team proposed and executed an MArch advising lunch as a way to bring students and their advisors together to discuss expectations and needs. The lunch yielded high attendance and positive feedback, and a follow up SMArchS advising lunch is being planned. The student lounge was renovated to provide a more comfortable and welcoming environment for students. Additionally, steps have been taken to address food insecurity among the student population including stocking the lounge with snacks and quick meals, amplifying information about MIT food resources at strategic points in the semester, and coordinating meals with lecture series events. In addition, Schuller is recruiting alumni mentors and working with the Office of Graduate Education to plan a mentoring circle for Architecture students in Fall 2023. 
Staff Community and Support
Following on concerns identified in their first year of work (see S&E AY21 Report), the S&E team continued to work toward improving the climate and culture for staff. In response to concerns about faculty-staff interactions, a committee of staff and faculty was convened to develop a joint values statement on creating a respectful and inclusive environment for staff, and best practices for healthy, productive faculty and staff collaboration. In collaboration with Jackie Dufault, Department Administrative Officer, efforts have been made to create more community, cohesion, and efficiency among staff. In partnership with Central HR, an organizational development series was launched with the rollout of a staff retreat in January and further sessions to come throughout the semester. 
Climate and Culture
The S&E team took a number of steps to further ongoing work to create an equitable, inclusive, and just environment–from personal to social, cultural to academic and institutional–for students, faculty, and staff in our department. They drafted a venue for concerns, which will be located on our department website. The new web portal will serve as a place for students, staff, and faculty to log concerns, suggestions, incidents, and any other issues that they would like to bring to the attention of department leadership. S&E assisted in the rollout, evaluation, and report on a Fall '21 staff and student survey assessing our department's different working and learning models–fully remote, hybrid, and in-person–over the previous two years, and their impact on our community and climate. The partnership with Courageous Conversation has continued, and plans for a 2-day workshop for all community members is currently in the works with support from the Dean's Office and the ICEO. Additionally, Schuller has partnered with the Student Services team to launch a Lunch & Learn series as a way to bring valuable campus resources to students. The series has expanded to include all SA+P departments, helping to build community across the school. 
Future plans
With the collaboration and support of our Department Head and many others in the department, the S&E team continues to move toward fulfilling the department's commitment to diversity, equity, and belonging. However, much work remains to be done. S&E continues to grow, learn, and respond to the rightful demands of students, staff, and faculty. In recognition that this growth is an ongoing process, the department looks forward to finding more equitable, inclusive, and respectful methods of practice, community-building, and care. The S&E team will aid in this process for the current academic year and beyond, in collaboration with our department-level Diversity, Equity and Belonging officer, Lauren Schuller and with the SA+P Assistant Dean for Diversity, Equity, Belonging and Student Support, Monica Orta. 
For details of the work S&E undertook in the academic year 2021-22, see the full Strategy and Equity Report AY 2022