Tracing Queerness: Archiving the Ephemeral
Image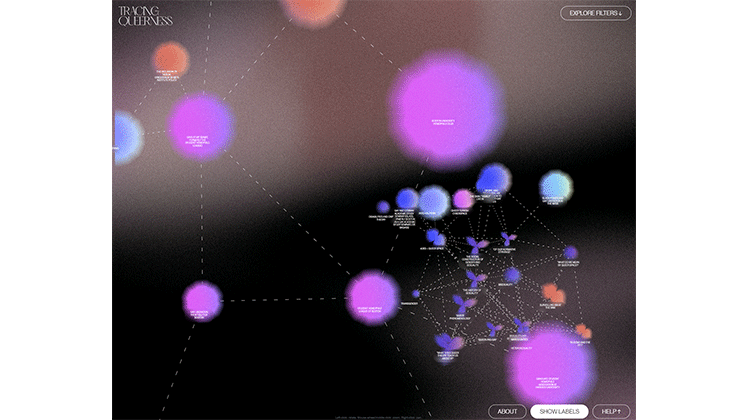 Published
September 13, 2022
For immediate release

MIT Exhibit Tracing Queerness: Archiving the Ephemeral
On view September 16, 2022 – October 7, 2022
MIT Keller Gallery, 77 Massachusetts Avenue, 7-408, Cambridge, MA
Cambridge, MA, September 13, 2022 – MIT announced that Tracing Queerness: Archiving the Ephemeral, an exhibition by Aidan Flynn (Teaching Fellow) and J. Jih (Lecturer, Architecture + Urbanism), is on view at MIT's Keller Gallery through October 7, 2022. 
This exhibit proposes an alternate mode of assembling a community-driven queer space to ask: how do queer spatial practices simultaneously orient the queer community and dis-orient[1] familiar ways of knowing self, space, and time? The curators offer a glimpse into this ongoing, contingent process of tracing the worlds we inherit and disinherit through contributions from a vast and growing community of artists, scholars, party-goers, activists, historians, and architects, among others, building up an inclusive and expanded notion of citation that bridges between the social, the spatial, and the academic. Tracing Queerness also invites visitors to contribute something as kin and become part of an expansive and ephemeral set of relations – neither entirely digital nor physical – in order to be transformed by the spaces they have shaped and reimagined.
About the Project
In resistance to more traditional paradigms of exhibition that are built, presented, and discarded, Tracing Queerness embraces and embodies uncertainty and transience. We begin with a question: how might an exhibition not only present or understand a community, but actively engage and parallel the practices of that community? As a spatial practice, a theorization, an identity, and a cultural orientation, 'queerness' works within and towards a negotiation between body, community, and space.

The cultural historian George Chauncey notes, there simply "is no queer space;" actually:
There are only spaces used by queers or put to queer use. Space has no natural character, no inherent meaning… As Michel de Certeau has argued, it is always invested with meaning by its users as well as its creators, and even when its creators have the power to define its official and dominant meaning, its users are usually able to develop tactics that allow them to use the space in alternative, even oppositional ways that confound the designs of its creators.[2]
Tracing Queerness seeks to enact, to perform, to create a queer space through interventions made by an individual or community at large. A metropolitan gymnasium or a farmer's field, a bedroom or a basement, a street or a bathroom, a beach or a swimming pool, an alley or a highway. All of these particular spaces of seeming nothingness, exclusively defined and made sense of by the lexicons we use to name them, hold the potential for use as queer spaces.
Queer space, then, is ephemeral. It is not perennial. It blossoms and decays; it comes and goes, ceasing and halting. It swings like a pendulum, unstable and provisional. The Keller Gallery is the stage upon which we seek to productively embrace this precarity. Here, we archive our essential presence.
This exhibition is led by a series of seemingly unanswerable questions, or—at least—shaky questions: what is queer space? Where is it? Who finds it? If queer space lacks permanence, how might we seek out a definition? In the built environment, in design, in history and theory, in quotidian moments and movements for the queer-identifying individual, how does one create a queer space? How does one maintain it? Who generates it and who experiences it? Who confirms its momentary or permanent reality?
We turn to these questions as provocations that deny us steadfast answers, and we embrace this uncertainty: we are certain of the uncertain and perhaps that, in and of itself, is queer space.
This exhibition traces between the often disparate and ephemeral episodes, events, practices, and spaces of the queer community branching outwards from MIT. We look to the theorists who have built up the academic worlds of Queer and Gender Studies in specifically spatial terms; to the queer archive and its loud silence; and to the architects and designers who create queer space, explicitly and implicitly, identifying their work as "queer," or themselves as individuals who, through their queer identities, inherently make queer spaces.
We seek to trace the terrains of queer events, queer selfhoods, and queer spatial practices. The walls of Keller become canvases upon which we—the community at large—project queer nodes, modes of inquiry, and connection. The gallery in and of itself—much like the projections it briefly endures—becomes a self-reflexive, communally-curated expanse towards the creation of (yet another) queer space of precarious intervention.
About the Curators
Aidan Flynn (he/him) is a Teaching Fellow in the Department of Architecture at MIT. He holds a B.A. (hons.) from the University of Toronto, where he double majored in Art History and Renaissance Studies; and a Master of Science in Architecture Studies (S.M.Arch.S.) in the History, Theory + Criticism of Architecture and Art from MIT. Aidan has taught classes on queer theory, design, and advanced writing for architecture. Aidan is the Co-Principal Investigator for the inaugural Queer Space Lab at MIT, wherein he teaches and works with a team of students and scholars as they seek out new methodologies in the study and practice of architecture. Aidan's research is concerned with the complex relationships between gender, sexuality, and space in the early modern and modern worlds, using queer and feminist theories as simultaneously productive and disruptive postmodern tools in earlier urban queer histories.
J. Jih (they/them) is a Lecturer in Architecture and Design at MIT, where their teaching and research center on the construction of the architectural figure through material systems, geometric analysis, choreography, behavior, and identity. Prior to founding Studio J. Jih, J. worked for Diller Scofidio + Renfro, Howeler+Yoon Architecture, and IwamotoScott. They received their Master of Architecture in 2012 from the Harvard Graduate School of Design, where they were awarded the Faculty Design Award for Design Excellence. They hold a B.A. in Architectural Studies and Sculpture from Brown University, Magna cum Laude, with Honors, and studied at the Architectural Association in London. J. is the 2014 recipient of the Rotch Traveling Fellowship, an endowed scholarship which funds one architect to travel and research architecture around the world for eight months. In 2022, J. was named one of Architect Magazine's Next Progressives. J. has lectured at the University of Pennsylvania, UCLA, Harvard GSD, Yale School of Architecture, and is a member of the AIA.
About the MIT Department of Architecture
The MIT Department of Architecture opened its doors in 1868 as the first Architecture department in the United States. MIT Architecture is currently home to around 250 graduate and undergraduate students. Numbered among the Department's over 5,000 alumni are Sophia Hayden '1890, Robert R. Taylor '1892, I.M. Pei '40, and Charles Correa '55. 
About the Keller Gallery at MIT
The Keller Gallery was established in the fall of 2011 with a generous donation of materials and labor in kind from Shawn Keller, principal at C.W. Keller & Associates. The 200 square foot gallery presents faculty, student, and experimental work, including work from alumni and friends.

The Exhibition was supported by the Department of Architecture at MIT, and the MindHandHeart Chancellor's Innovation Fund. Special thanks to Merve Akdogan, Dalma Földesi, Amanda Moore, Jung In Seo, Gil Sunshine, Jackie Qianyue Xu, and to all the students, developers, designers and thinkers in the Queer Space Lab.
Visitor Information
The Keller Gallery at MIT 
77 Massachusetts Avenue, Building 7, Room 408, Cambridge, MA 02139
Monday through Saturday, 9AM to 6PM
Media contacts
Amanda Moore
Communications Strategist, MIT Department of Architecture
amm@mit.edu / 617-253-0692
 
[1] For more on orientation and dis-orientation within queer discourse, see Sara Ahmed's Queer Phenomenology (2006).
[2] George Chauncey, "Privacy Could Only Be Had In Public': Gay Uses of the Streets," in Stud: Architectures of Masculinity, ed. Joel Sanders (New York: Princeton Architectural Press, 1996), 224.