Lauren's practice deals in questions of materiality, effect, and neutrality in craft and presentation processes. She received her BFA from the Cooper Union with a specialization in sculpture, printmaking, and graphic design. Prior to continuing her education at MIT, she worked on the design, fabrication and implementation of exhibition and wayfinding systems. 
Lauren is currently, with partner Adriana Giorgis, preparing a fall 2022 exhibition on building longevity and lifespans in the United States. This summer they are conducting practitioner interviews and working with community partners in Boston on the preparation of materials, advised by Brandon Clifford and John Ochsendorf. 
Projects
Marble Wobble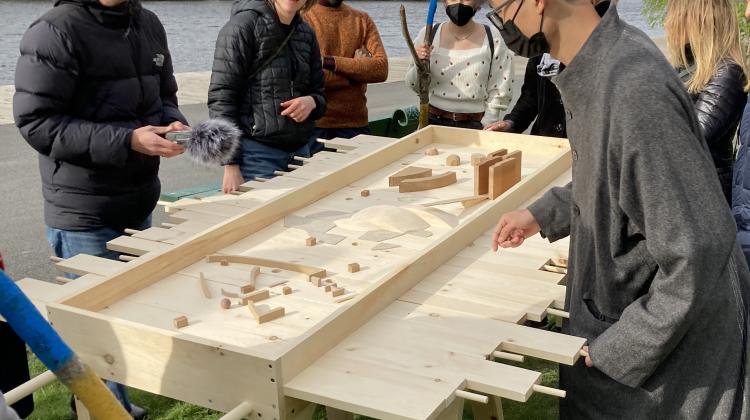 Lauren Gideonse and Katie Rotman, second year MArchs at MIT, developed Marble Wobble to direct conversation and gather people around the idea of commoning, group dynamics, and collective and cooperative action. Lauren and Katie have been workshopping a series of games that bring together different stakeholders around these topics.

Marble Wobble: Dudley Triangle, developed for Ana Miljacki's Collective Studio, is set in Dudley Triangle, home to DNI, a community land trust in Roxbury, Boston. The game highlights the challenges, pitfalls and thrills of working as a collective. There are four playing modes: collectively toward a common goal, together against a common adversary, competitively or contemplatively.

Tilting the Scales, the second in the series of wobbles, was developed for Gediminas Urbonas' course Art in the Public Sphere which had as its site Herter Park Community Garden. This iteration focuses on the cadence of gardening formed by individual labor toward the care of a shared space. The rhythms of gameplay demonstrate the dynamics between advocates for the community garden and larger city bureaucracies as they navigate the challenge of shepherding an un-comforming space in the public sphere.