Architectural Longevity: What Determines a Building's Lifespan?
Image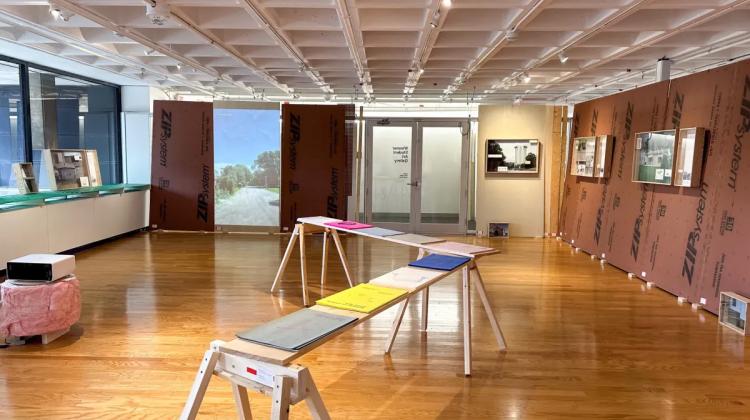 Image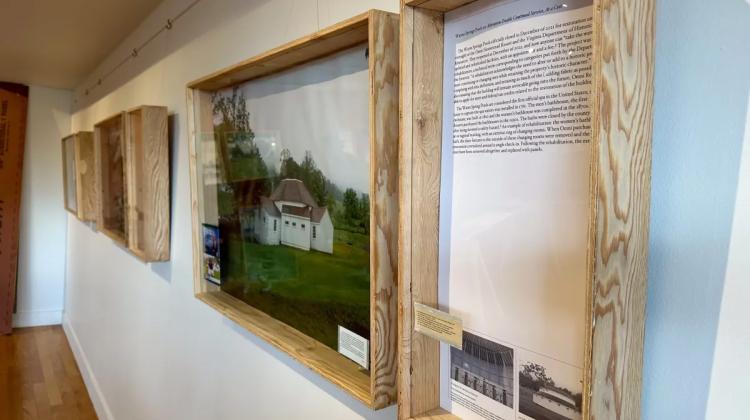 Image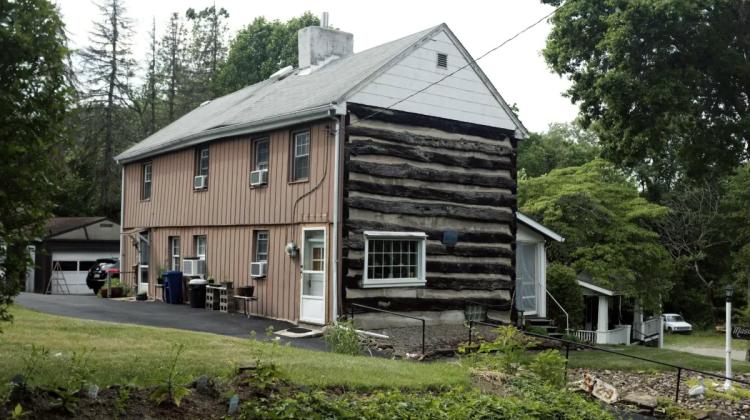 Image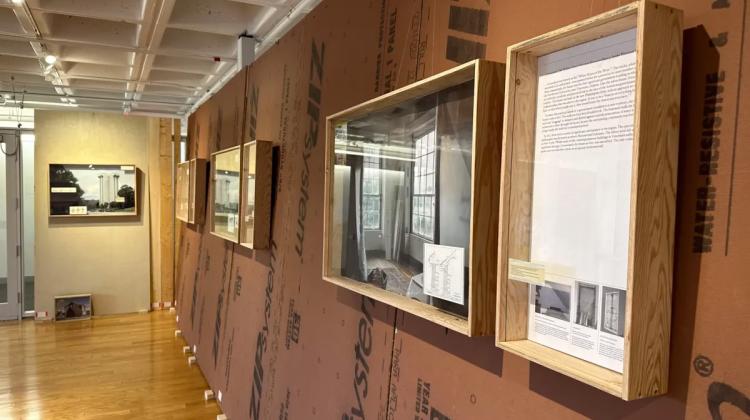 Published
October 13, 2023
A new exhibition at MIT Wiesner Student Art Gallery explores the practicalities and play of architectural aging
The average lifespan of a house in the United States is between 50 and 63 years, from construction to demolition. For Lauren Gideonse (MArch '24) and Adriana Giorgis (MArch '24), this simple statistic provided the spark for three years of investigation across multiple disciplines and media.
The duo discovered their shared fascination with questions of architectural longevity in their first semester, when they were challenged by Associate Professor Brandon Clifford to consider how the contemporary built environment relates to larger time scales. Gideonse and Giorgis brought the concept to their structural design classes where they learned about the nuts and bolts of maintenance for longevity, to a class in digital technology where they designed a video game about the lifespan of buildings, and even to an entrepreneurship class where they developed a premise for a company promoting the reuse of construction materials.
In 2021 they took part in the Transmedia Storytelling Initiative, led by Professor Caroline A. Jones, which enabled them to embark on the first of two road trips across the United States; a quest to gain experiential knowledge of the materials, systemic conditions, and human stories of houses that have stood for over 100 years. These findings are now presented in an exhibition at Wiesner Student Art Gallery, Come Back and Tell Me Why Things Last, funded in part by the Council for the Arts at MIT and on view September 22 – November 9, 2023.
"The title reflects our emphasis on site-specific narratives and the emotional resonances of why certain buildings last," explained Giorgis. "From our coursework in the architecture program, we know that the lifespan of a building is shaped by factors including mortgage duration and insurance, construction protocol, material strategies, and cultural values. However, the way those factors interact is specific to each place and circumstance – that's why we felt that we had to approach the question of longevity through a lens of storytelling and first-hand experience."
On the Road
With this in mind, the duo planned the first of two road trips based on their research into American houses built between 200 and 250 years ago. "The map we developed naturally brought us as far as Saint Louis, to the edge of the American frontier as it was in the late 18th century," said Gideonse. "We started here in Cambridge, traveling west until the age of the building stock started to decline, then followed the Mississippi down to New Orleans and returned via the Gulf Coast and up through Northern Florida, working our way up to Appalachia." The second road trip took them further west, witnessing a fall in the age of contemporary building stock but opening to the deeper timescales of landscape and indigenous settlements, stopping at sites such as Chaco Culture National Historic Park and Hovenweep National Monument.
Gideonse and Giorgis found themselves covering vast distances and encountering diverse approaches to construction based on available materials and vernacular tradition. Along the southeastern coast they studied houses constructed of durable tabby, a type of concrete made by burning oyster shells to create lime; in the Southern Mississippi Valley they learned about the French construction system of poteaux-en-terre, adapted and fortified with readily available materials such as Spanish moss, mud, and deer hair. Throughout the trip, they would stop and talk to homeowners, stewards, maintenance technicians, and local engineers – often returning to the car with unexpected gifts, such as a box of eggs from a Pennsylvania farmer and cornflour milled at an active 19th century watermill in Ohio.
Stories and Sustainability
Back in Cambridge, Gideonse and Giorgis were tasked with translating that wealth of experience and research into an exhibition format that could engage others in the nuances of architectural longevity. To provide, as Gideonse put it, "a moment of pause" in the cycle of demolition and rebuilding, to contemplate why we might choose to maintain, restore, adapt, or tear down a building – and how those material resources might be best used.
Visitors approaching the exhibition space may be surprised to see colorful, oversized construction materials playfully outgrowing the gallery. Once inside, we are invited to dwell with a series of deep-framed case studies of specific houses, each illuminating a recurring theme encountered on the road trips. In Virginia, the 18th century bathhouses at Warm Spring Pools – considered the first spa resort in the US – reveal the extensive costs and labor involved in historic rehabilitation. The early 20th century Bungalow Colony Unit in San Antonio, TX, presents a curious parable for how disassembled structures might serve as "organ donors" for threatened historic buildings. Combining images and text, each vitrine is overlaid with additional visual inserts supporting the narrative, including excerpts from pamphlets, news clippings, quotations from conversations, and souvenirs gathered en route.
This form of research-centric storytelling is offset by the expressive Risograph prints stacked at the center of the gallery, inspired by the graphics and slogans of French protest posters. A print of a cat lounging on a roof reminds us that a building has "many lives," while a joinery motif illustrates the preservation principle of "reversible styles of attachment." Aesthetically alluring and intended for distribution, the posters are designed to encourage more sustainable practices in architecture and construction.
Resource Responsibility
The installation materials are all intended to be disassembled and reused, much of which will be donated to Boston Building Resources (BBR) where Gideonse and Giorgis worked as research partners during the summer of 2022. As a non-profit organization, BBR provides residents in Roxbury with affordable construction materials to preserve their houses in defense against gentrification, introducing the two students to tangible ways that the principles of their master's program could be put into practice. "A pervasive concern of our curriculum is how we can be more responsible stewards, given that the sector of architecture, engineering, and construction is accountable for 40% of global carbon emissions," said Giorgis. "The continued use of a building conserves the investment of embodied carbon, and prevents unnecessary expenditure of time and labor."
While an exhibition about architectural longevity might suggest a mood of monumentality and stasis, the experience of the exhibition is playfully subversive; a house is revealed as a dynamic process, a temporary arrangement of materials ready to take new forms. Rather than straightforwardly advocating for preservation, Gideonse and Giorgis invite us to think critically and creatively about the tangled factors that constitute a building's lifespan. As with any life well lived, the point is not to persist, but to live with purpose, pragmatism, and space for play.
Come Back And Tell Me Why Things Last
Wiesner Student Art Gallery
MIT Building W20, 2nd Floor
84 Mass Ave, Cambridge, MA
On view: September 22–November, 2023
Reception: October 13, 2023 / 5:00pm
Originally published October 11, 2023 by Matilda Bathurst, with editorial direction by Leah Talatinian, Arts at MIT.